Robocalls drop sharply in December 2021
Robocalls in the U.S. during December were down 12.5% from the previous month. Here's an overview and a look behind the numbers.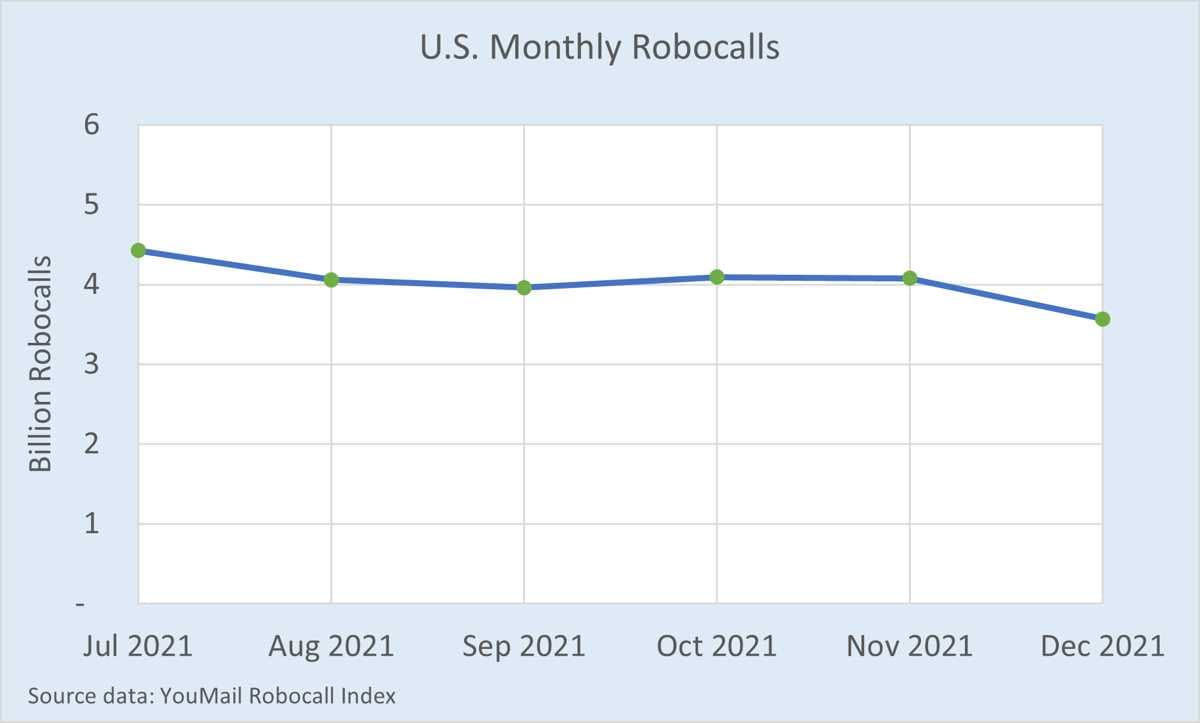 Here are the details for the past six months.
| Month | Robocalls | Difference | Change |
| --- | --- | --- | --- |
| Jul 2021 | 4,426,771,600 | -14,672,700 | -0.3% |
| Aug 2021 | 4,059,014,700 | -367,756,900 | -8.3% |
| Sep 2021 | 3,963,471,100 | -95,543,600 | -2.4% |
| Oct 2021 | 4,093,788,200 | 130,317,100 | 3.3% |
| Nov 2021 | 4,079,353,800 | -14,434,400 | -0.4% |
| Dec 2021 | 3,568,955,900 | -510,397,900 | -12.5% |
From July through December, the average monthly decline in robocalls was 145 million, or 3.4%.
October was an outlier; robocalls increased. This is typical for October, when some robocalls are promoting health insurance plans in anticipation of annual renewal season in November. For example, robocalls were up 11.7% in October 2020 and 3.3% in October 2021.
If we exclude October 2021, then the average monthly decline in robocalls for July through December would have been 201 million, or 4.8%.
The numbers still aren't as low as the pandemic dip, but they are at the lowest level since June 2020.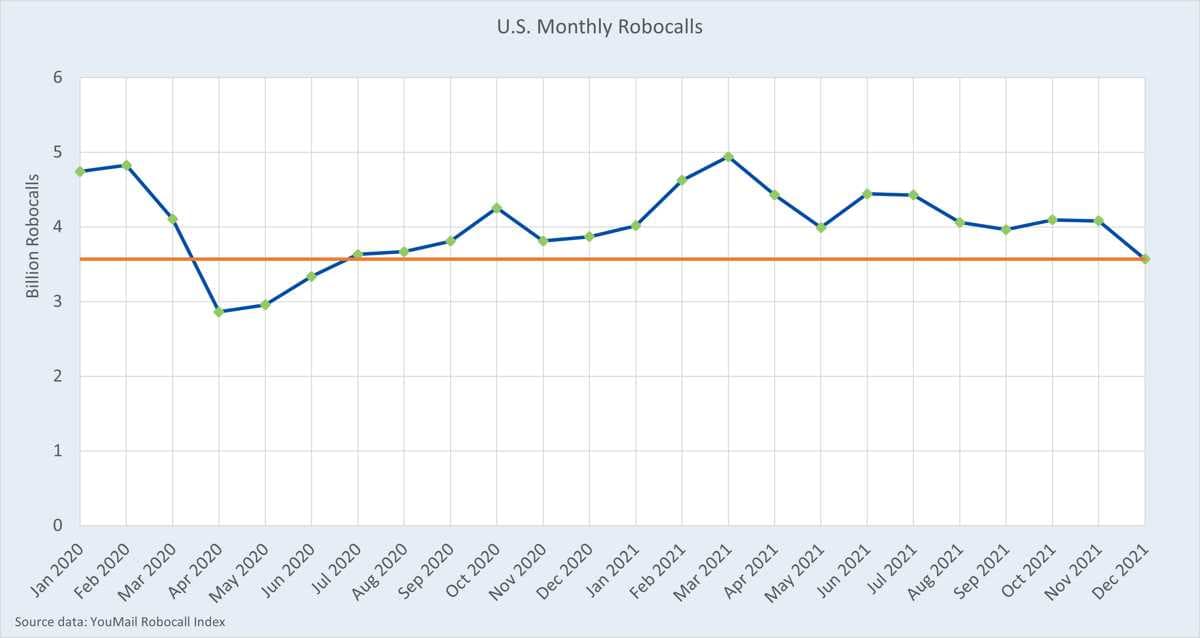 Clearly robocalls were in decline in the last half of 2021. Let's look at a few contributing factors.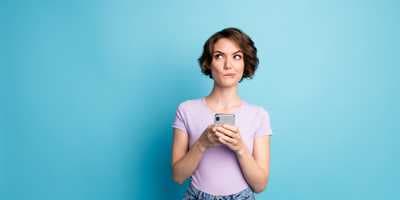 Robocall mitigation
The FCC recently published their annual report to Congress on activity related to the TRACED Act. This report covers a lot of ground. Let's focus on items that contributed to a decline in robocalls.
Traceback
The Industry Traceback Group (ITG) reported on traceback activity from January through mid-November 2021. Here are the highlights:
The ITG initiated nearly 2,900 tracebacks.
The ITG responded to over 70 subpoenas and civil investigation demands from government agencies.
Nearly 400 providers participated in tracebacks.
Tracebacks identified providers carrying robocalls:

121 U.S. providers originating illegal robocalls
111 U.S. providers that brough illegal robocalls into the U.S.
115 foreign providers originating illegal traffic
In their report, the ITG described investments in technology and operations they're making to make traceback even better.
Legal and enforcement action
Government prosecutors are ramping up prosecution of robocallers.
Legal action against robocallers and service providers that look the other way is expected to increase. States such as Ohio and New York recently enacted new robocall laws. State prosecutors have vowed to go after robocallers and providers that knew or should have known about robocalls on their network.
The FCC continues enforcement actions against providers that carry robocalls.
Ongoing challenges
Is it game over for illegal robocalls? Not yet. There's too much easy money involved, and robocallers find ways to adapt to changing conditions.
Here's a list of challenges that we believe must be addressed to make progress in the battle against illegal robocalls.
Problem: SHAKEN participation has leveled off at around 24% of calls. Despite the availability of non-IP SHAKEN methods, the SHAKEN non-IP implementation extension is preventing wider participation.
Solution: the FCC should begin to phase out the non-IP implementation extension.
---
Problem: Some robocalls are being signed with SHAKEN attestation. Many of these robocalls are signed by a downstream provider on behalf of an upstream Originating Service Provider that claimed a SHAKEN implementation but are not approved to do SHAKEN. They aren't doing SHAKEN or robocall mitigation. A high percentage of such calls are robocalls.
Solution: The downstream provider loophole must be closed. A voice service provider cannot claim a SHAKEN implementation if they are not approved to do SHAKEN.
---
Problem: Providers are legally required to do either SHAKEN or robocall mitigation. This either/or arrangement cripples the effectiveness of these efforts.
Solution: Providers should be required to do both SHAKEN and robocall mitigation. They work well together—that's how they were intended to be used.
TransNexus solutions
We offer STIR/SHAKEN and robocall mitigation solutions in our ClearIP and NexOSS software platforms. We can make your STIR/SHAKEN deployment a smooth process.
We provide an STI-CPS, the TransNexus CPS, which is available to any SHAKEN-authorized service provider, free of charge, to use when they want to send or receive STI PASSporTs out of band.
Contact us today to learn more.
This information will only be used to respond to your inquiry. TransNexus will not share your data with any third parties. We will retain your information for as long as needed to retain a record of your inquiry. For more information about how we use personal data, please see our privacy statement.