Robocalls trending upward in the U.S.
Robocalls in the U.S. have been rising in 2022. In this article, we review the trends, causes and recent reactions from lawmakers.
Robocalls Are on an Upward Trend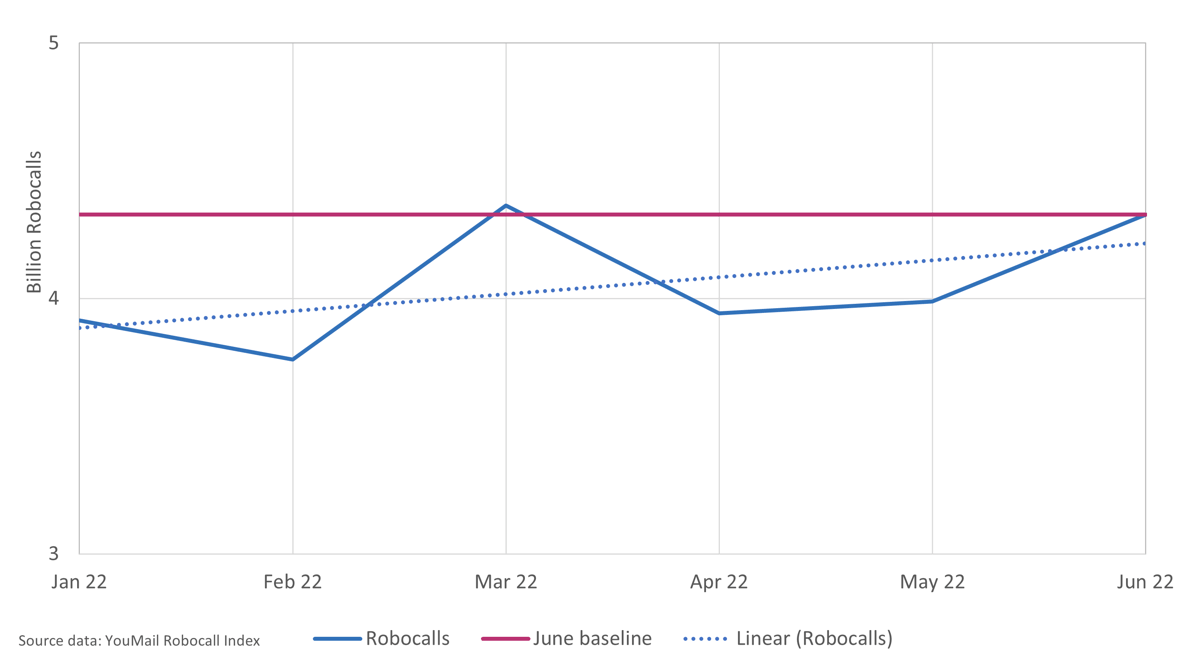 In Figure 1, the solid blue line shows the number of robocalls reported by the YouMail Robocall Index for each month in the U.S. The dotted blue line shows the linear trendline that fits this data. The red line shows June robocalls as a baseline for comparison with previous months—only March was higher.
The data show an average increase of 2.4% per month from January through June, with an 8.5% increase from May to June.
Underlying causes
We've noticed an increase in robocalls identified by call analytics that were also signed using STIR/SHAKEN with either B (partial) or C (gateway) attestation. This trend exploded in May 2022 and continued in June, when nearly 40% of calls signed with partial or gateway attestation were robocalls!
Digging into the details, we find that many of these calls were signed by downstream intermediate providers using their own SHAKEN certificate.
In this scenario, originating service providers claim a complete SHAKEN implementation in the Robocall Mitigation Database. However, they have not been approved for SHAKEN by the STI Policy Administrator. They don't have a SHAKEN certificate. They are not participants in the SHAKEN governance ecosystem. Because they claim a SHAKEN implementation, they don't have to do robocall mitigation either.
This cozy arrangement enables robocall facilitators and downstream third-party signers to evade accountability for originating and transiting robocalls.
This isn't the only source of robocalls. We've also detected robocalls signed with full A attestation. However, the third-party signer scheme is the most glaring example of a failure to enforce the framework as designed and the consequences for such failure.
Response from legislators
In February 2022, U.S. Senators Markey and Thune, the authors of the TRACED Act, asked the FCC for more details about robocall traceback activity by the Registered Traceback Consortium. The Industry Traceback Group provided a report in March with more details about how traceback works and patterns that the ITG has observed.
Since then, robocalls have been increasing, and legislators have noticed. In June 2022, twelve U.S. Senators cosigned a letter to FCC Chairwoman Jessica Rosenworcel. In this letter, the senators noted that traceback information is only released privately and on a selective basis to regulators and law enforcement.
These senators want to make providers publicly accountable for facilitating robocalls. They asked for timely public disclosures on all consortium tracebacks of suspected illegal robocalls. Each disclosure should:
Identify at least the originating or gateway provider and the first intermediate provider.
Give the named providers the opportunity to provide comment included in the disclosure.
Provide current contact information for the providers in the disclosure.
Let's see how the Commission responds to this request.