STIR/SHAKEN statistics from May 2022
Signed robocalls showed explosive growth in May. In some cases, a SHAKEN attestation is becoming a marker for a likely robocall. Let's have a look.
We've been publishing monthly STIR/SHAKEN statistics since April 2021. These numbers are gathered from over 100 voice service providers using our STIR/SHAKEN and robocall prevention solutions. The data describe calls they received from 283 other voice service providers that originated calls, including some robocalls, signed with STIR/SHAKEN.
SHAKEN-signed robocalls show explosive growth
Many Robocalls Signed B or C
Figure 1 compares the percentage of robocalls by attestation level, for unsigned calls, and for all calls in May 2022.
The red line shows the robocall percentage for all calls, which was 8.91%.
7.61% of unsigned calls were robocalls.
35.53% of calls signed with B (partial) attestation were robocalls, 4.7 times the robocall percentage of unsigned calls.
40.51% of calls signed with C (gateway) attestation were robocalls, 5.3 times the robocall percentage of unsigned calls.
Signed Robocalls Exploded in May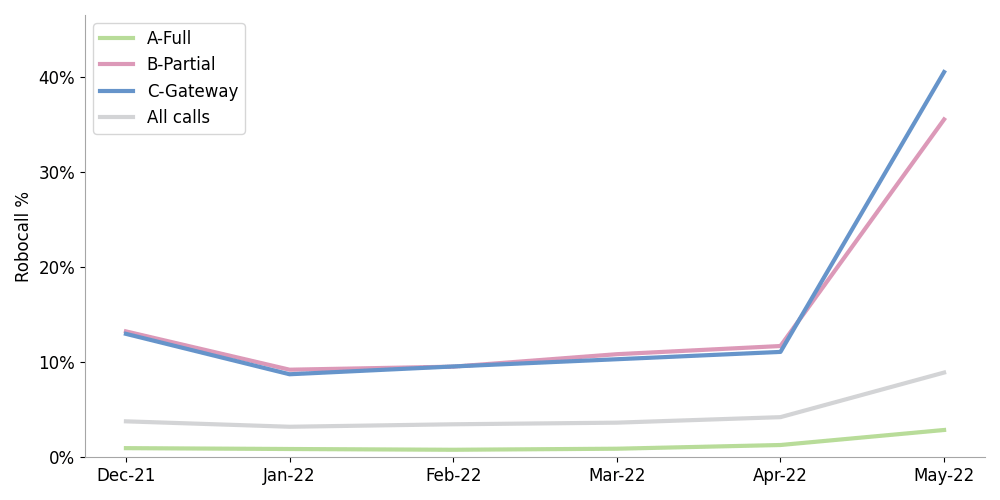 Figure 2 shows this trend over the past six months and the explosive growth of signed robocalls in May 2022. Calls signed with B and C attestation were tracking closely in previous months, but robocalls with C attestation surged ahead in May.
Even robocalls signed with full (A) attestation increased, from 1.29% in April to 2.87% in May—more than double.
SHAKEN participation remains low
Most Calls Were Unsigned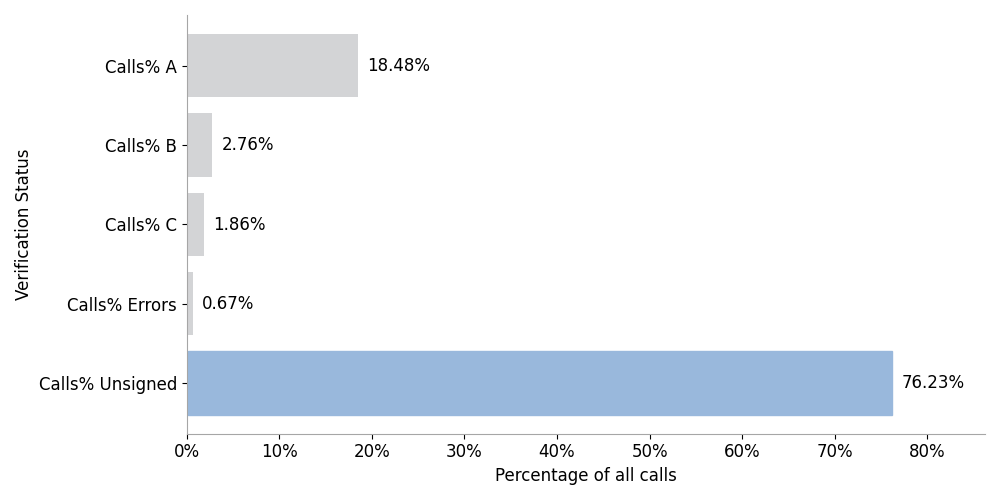 Figure 3 shows that 76.23% of calls received were unsigned. The SHAKEN implementation exemptions need to be phased out before we'll see much more participation.
Signed Calls Increased Slightly
Figure 4 shows that the percentage of signed calls was up slightly, but it's still hovering around 24%.
Slight Increase in SHAKEN Participation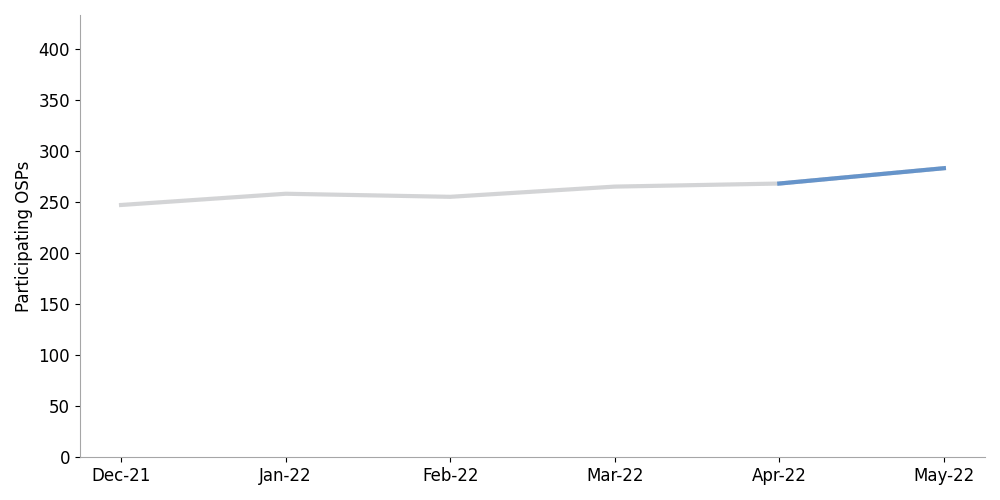 Figure 5 shows that the number of Originating Service Providers (OSPs) signing calls has essentially leveled off with a slight increase from 268 in April to 283 in May.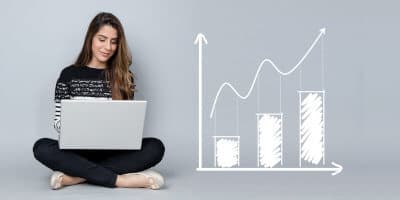 What the statistics tell us
If you've been following our monthly STIR/SHAKEN statistics articles, you probably already know what's going on here:
Some downstream intermediate providers are signing calls for upstream Originating Service Providers (OSPs). The signing provider uses their own SHAKEN certificate, not the certificate of the OSP (who doesn't have one).
Many of these OSPs claim a complete SHAKEN implementation in the Robocall Mitigation Database. Under the current rules, they don't have to do robocall mitigation.
The downstream signing provider doesn't have an authenticated relationship between the caller and the calling number, so they sign the call with either B or C attestation.
Some unscrupulous OSPs are originating illegal robocalls from within this arrangement. Reminiscent of Captain Renault in the movie Casablanca, everyone is shocked to find that robocalls are being transmitted and signed.
We've noticed and reported on this since July 2021. What changed in May, however, is the scale. Signed robocalls have skyrocketed.
What would fix this? There have been a few recent publications that discuss solutions:
On May 19, the FCC issued a Further Notice of Proposed Rulemaking on SHAKEN and robocall mitigation. We summarized the proposed rules in this article. There are many good ideas in this document, but we believe the most impactful rule changes would be:

Phase out the non-IP SHAKEN implementation exemption. Have providers that rely on non-IP technology use any of the SHAKEN-for-TDM methods available. Providers that don't rely on non-IP technology wouldn't have to do anything different.
Close the third-party signing tactic. Clarify the rules so that a provider must be approved to do SHAKEN by the Policy Administrator to claim a SHAKEN implementation. This would close the door on OSPs that claim SHAKEN but haven't really done anything.

The FCC just published a report from the CATA Working Group on best practices for Terminating Service Providers using SHAKEN. We summarized the document in this article.

Perhaps the most intriguing suggestion in this document is that Terminating Service Providers should use call analytics to improve the accuracy of reputation scores for callers and service providers that sign calls with SHAKEN. If there were signing providers that sign calls with C attestation and 40% or more of such calls were illegal robocalls, would you want to know that?
TransNexus solutions
TransNexus is a leader in developing innovative software to manage and protect telecommunications networks. The company has over 20 years' experience in providing telecom software solutions including toll fraud prevention, robocall mitigation and prevention, TDoS prevention, analytics, routing, billing support, STIR/SHAKEN and SHAKEN certificate services.
Contact us today to learn more.
This information will only be used to respond to your inquiry. TransNexus will not share your data with any third parties. We will retain your information for as long as needed to retain a record of your inquiry. For more information about how we use personal data, please see our privacy statement.