Robocall trends as of March 2023
Robocalls were up in March 2023. In this article, we review the trends for all robocalls versus scam robocalls. Let's have a look.
Robocalls of all types are increasing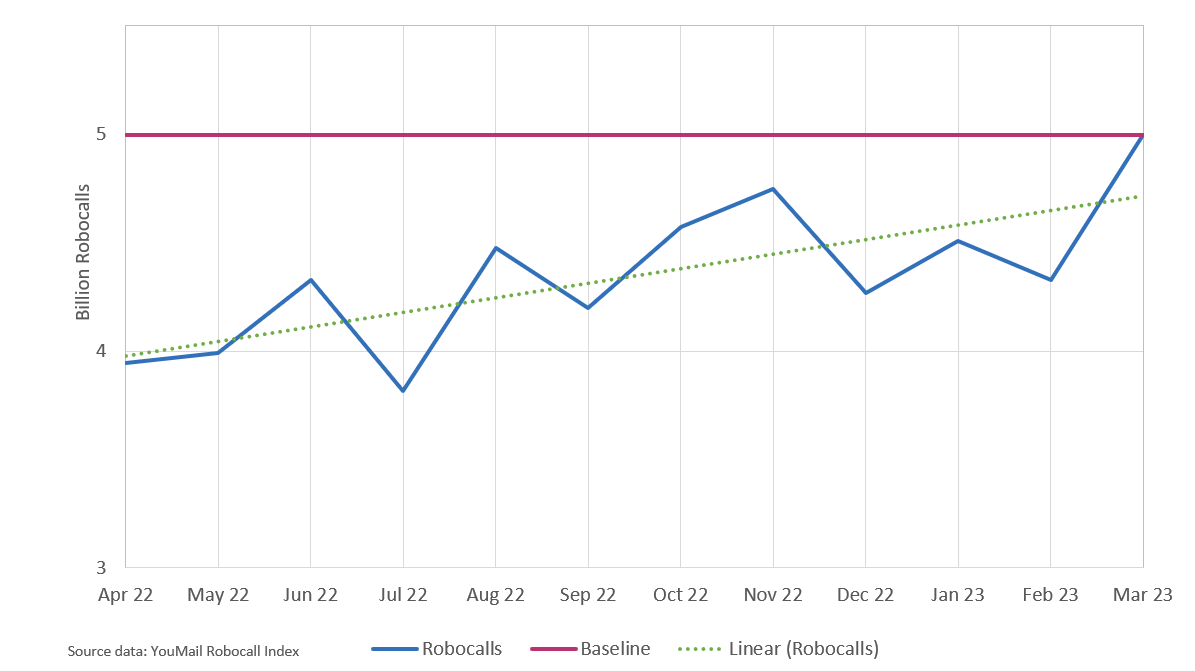 In Figure 1, we can see an upward trend for all robocalls in the U.S. as reported by YouMail's Robocall Index for the past 12 months ending in March 2023. The numbers are volatile from month to month. However, the dotted green line shows a strong upward trend.
Scam robocalls are declining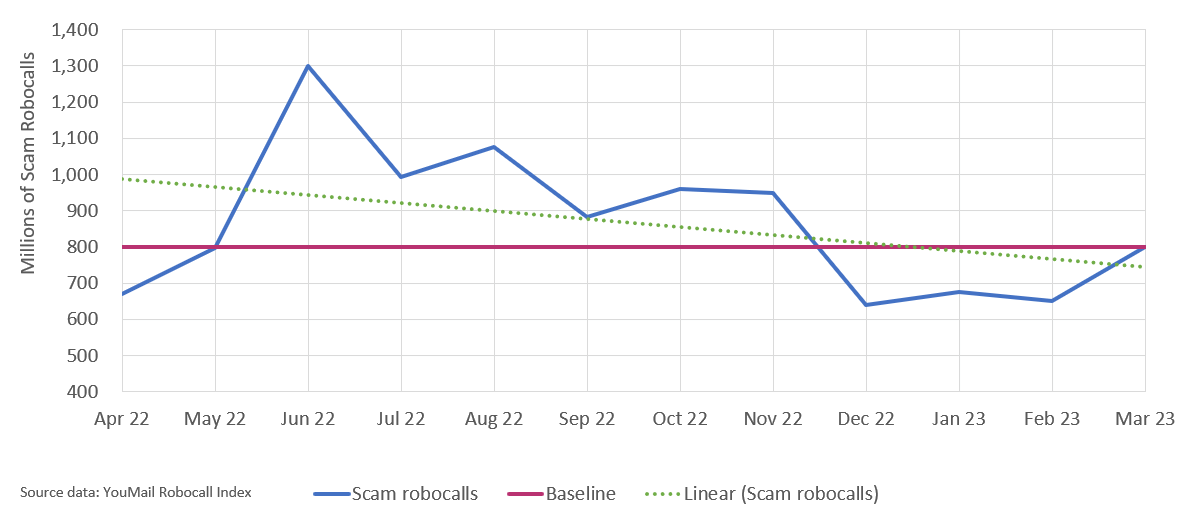 In Figure 2, we see the subset of robocalls that the Robocall Index identified as likely scam calls for the same date range. This trend is headed in the opposite direction. While the total number of robocalls is going up, the number of scam robocalls is on a downward trend.
Contributing factors
In April 2021, the U.S. Supreme Court handed down a decision in the Facebook v. Duguid case that narrowed the definition of an Automatic Telephone Dialing System (ATDS). This made it possible for telemarketers to use predictive dialers that are not subject to the TCPA because they do not match the narrow ATDS definition. However, the TSR (Telephone Sales Rule) and Do Not Call Act still apply, so some limits on legal robocalls remain. However, one obstacle has been lowered.
Meanwhile, the Industry Traceback Group has been doing more tracebacks and turning the results over to government regulators and law enforcement, including state attorneys general. This has resulted in some notable shutdowns in scam robocalls, such as action against the auto warranty robocalls in July 2022.
Looking forward
Congress might pass a law to amend the TCPA with a broader definition of ATDS. Such legislation was introduced in the previous session but was not passed.
Meanwhile, some states (e.g., Florida, Oklahoma, and Washington) have been taking matters into their own hands and passing mini-TCPA laws that include a broader definition of ATDS. This piecemeal approach makes it more difficult for law-abiding telemarketers to keep up with rules in different states.
Many consumers remain wary of answering calls from unknown calls. Most are unaware and not very interested in the subtleties of ATDS definitions and various state laws. It's another robocall.
Lawful high-volume callers should be looking for ways to upgrade their telephone call outreach efforts. Here are a few tactics:
Use different calling numbers for debt collection versus other outreach numbers.
Have your calls originated by a service provider that can provide a legitimate A-level attestation in its STIR/SHAKEN authentication process.

Conversely, avoid using originating service providers that are establishing a record for signing many scam robocalls with STIR/SHAKEN