FCC chairman calls for STIR/SHAKEN without delay
Federal Communications Commission (FCC) chairman Ajit Pai yesterday called on telecom carriers to implement SHAKEN as quickly as possible to protect consumers from caller ID spoofing and unwanted robocalls.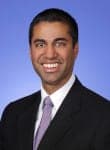 "Combating illegal robocalls is our top consumer priority at the FCC", said Pai. "That's why we need call authentication to become a reality—it's the best way to ensure that consumers can answer their phones with confidence."
Pai thanked the providers who have begun implementation of STIR/SHAKEN, and he asked those providers that apparently have not made concrete plans to deploy STIR/SHAKEN to do so without delay.
"If it does not appear that this system is on track to get up and running next year, then we will take action to make sure that it does," said Pai.
FCC press release calling on providers to implement STIR/SHAKEN without delay
STIR/SHAKEN framework to authenticate and verify caller ID
With STIR/SHAKEN, originating service providers authenticate caller ID and sign outbound calls. Terminating service providers verify the signature to ensure that caller ID information has not been tampered with in transit or used in a replay scheme. The process enables terminating service providers to present caller ID that consumers can trust.
STIR/SHAKEN resources
TransNexus has published several insights on STIR/SHAKEN to help the community learn how this framework can be used to prevent caller ID spoofing, a tactic used with unwanted robocalls. Further information:
TransNexus can help with STIR/SHAKEN
TransNexus can help you get ready for STIR/SHAKEN with everything from advisory services to complete production-ready software solutions. Contact us today for more information.
This information will only be used to respond to your inquiry. TransNexus will not share your data with any third parties. We will retain your information for as long as needed to retain a record of your inquiry. For more information about how we use personal data, please see our privacy statement.
---
More on TransNexus.com
November 16, 2018
New bill to mandate SHAKEN introduced in the U.S. Senate
November 15, 2018
U.S. SHAKEN governance authority issues RFP for policy administrator selection
October 10, 2018
State attorneys general call for aggressive implementation of STIR/SHAKEN
September 21, 2018