STIR/SHAKEN statistics from March 2022
The March STIR/SHAKEN statistics are a mixed bag—some numbers got worse, while others improved. Let's have a look.
We've been publishing STIR/SHAKEN statistics every month since April 2021. These numbers are gathered from over 100 voice service providers using our STIR/SHAKEN and robocall prevention solutions. The data describe calls they received from 265 other voice service providers that originated calls, including some robocalls, signed with STIR/SHAKEN.
SHAKEN-signed robocalls still a problem
Many Robocalls Signed B or C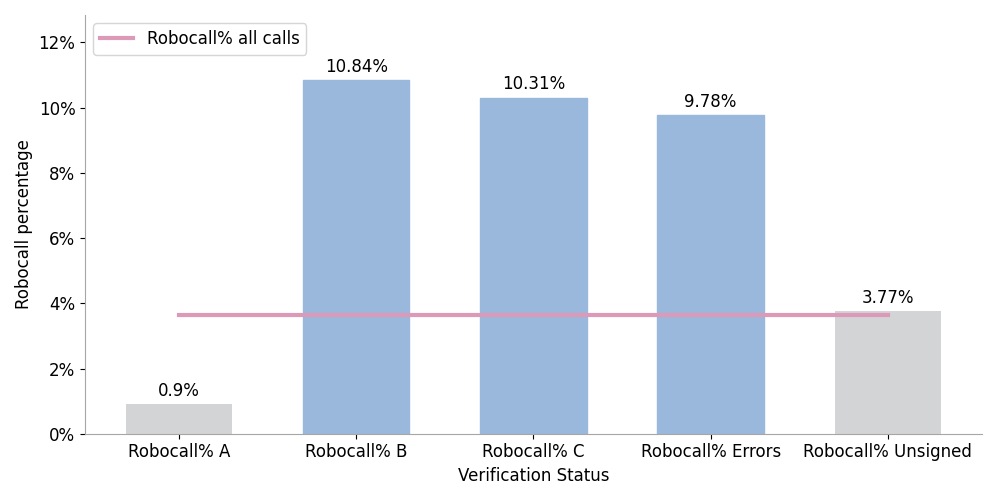 If you've been following our monthly SHAKEN statistics articles, you know that some robocallers are getting their robocalls signed. In March 2022, this trend continued. Calls signed with B or C attestation were three times more likely to be robocalls than unsigned calls.
Figure 1 shows that 10.84% of calls signed with B attestation were robocalls. Calls signed with C attestation were just half a percentage point behind.
SHAKEN-signed Robocalls Increasing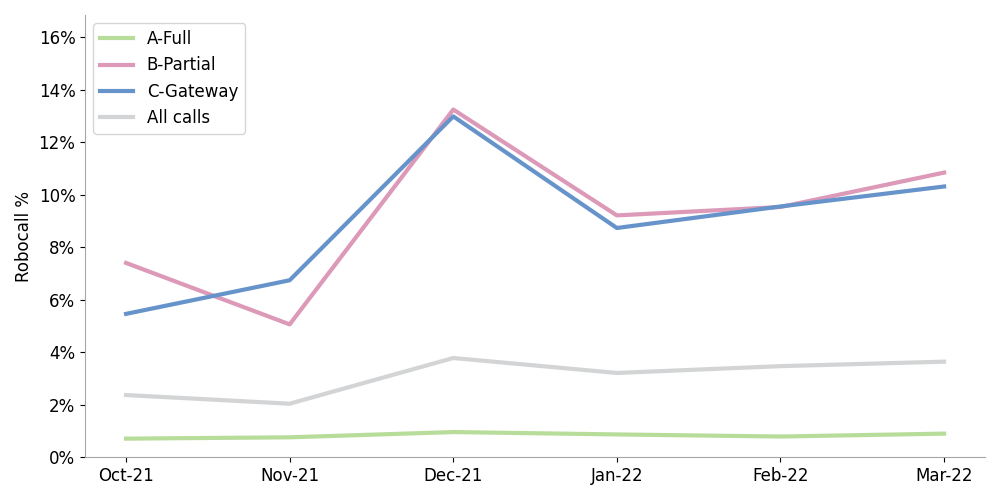 Figure 2 shows this trend over the past six months. December 2021 was a big month for signed robocalls as seen with the red (B - Partial) and blue (C - Gateway) lines. The numbers dropped in January but have been climbing since.
The grey line shows the overall robocall percentage jumped from November to December and has been hovering around 3.5%, climbing slightly to 3.77% in March.
SHAKEN participation improved
Most Calls Unsigned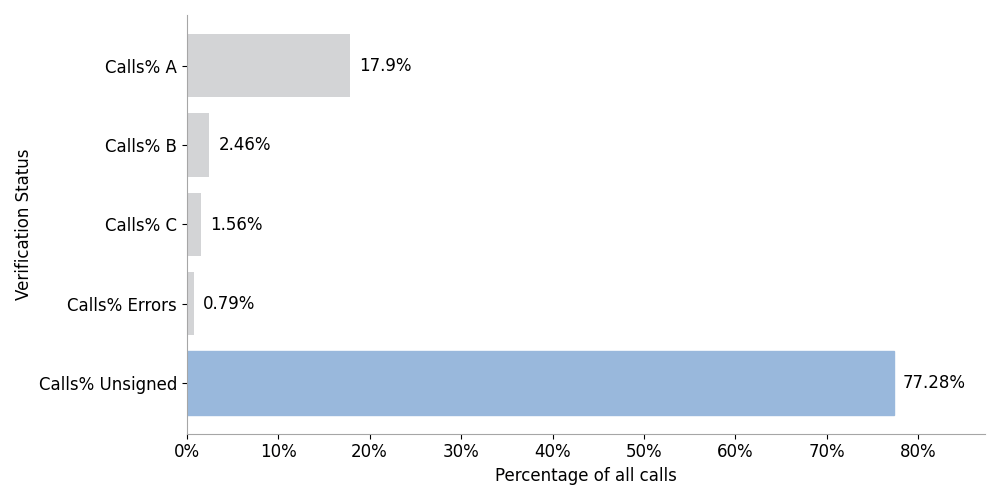 Figure 3 shows that most calls received, 77.28%, were unsigned. This doesn't bode well for robocall prevention, which works better when you know whether the calling number was spoofed.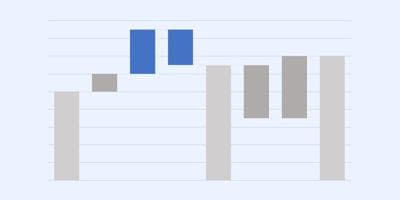 Signed Calls Up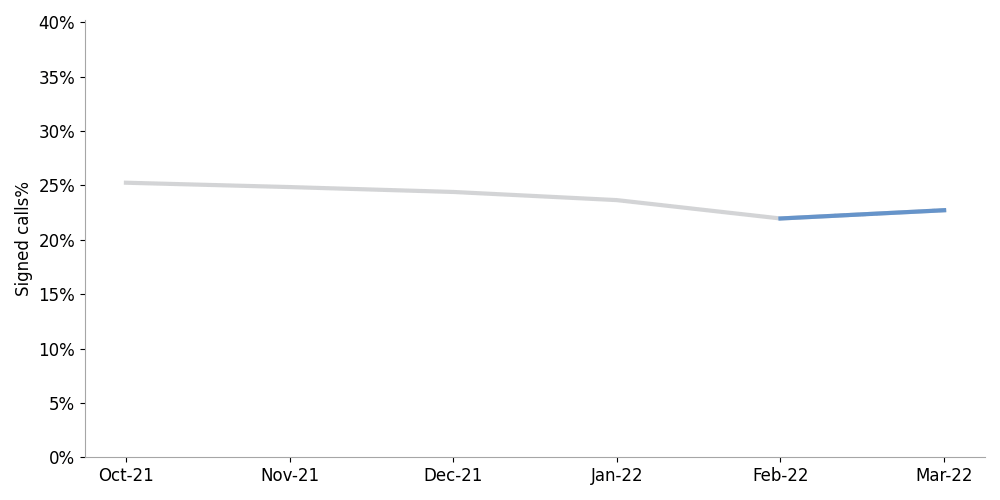 Figure 4 shows a bit of good news: the percentage of signed calls increased slightly, after a gradual four-month decline.
More SHAKEN Signers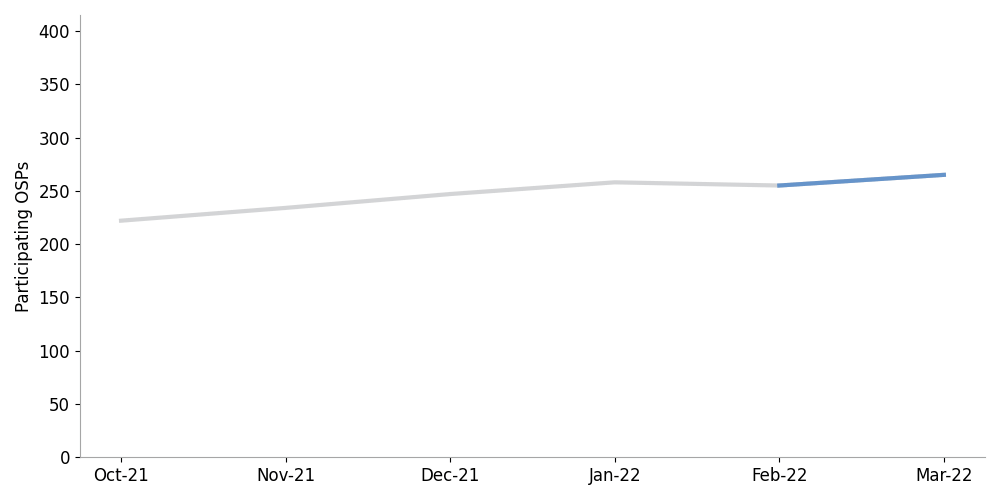 More good news: Figure 5 shows that the number of Originating Service Providers (OSPs) signing calls increased from 255 in February to 265 in March.
Robocall Mitigation Database filings in flux
Surge in No SHAKEN Claims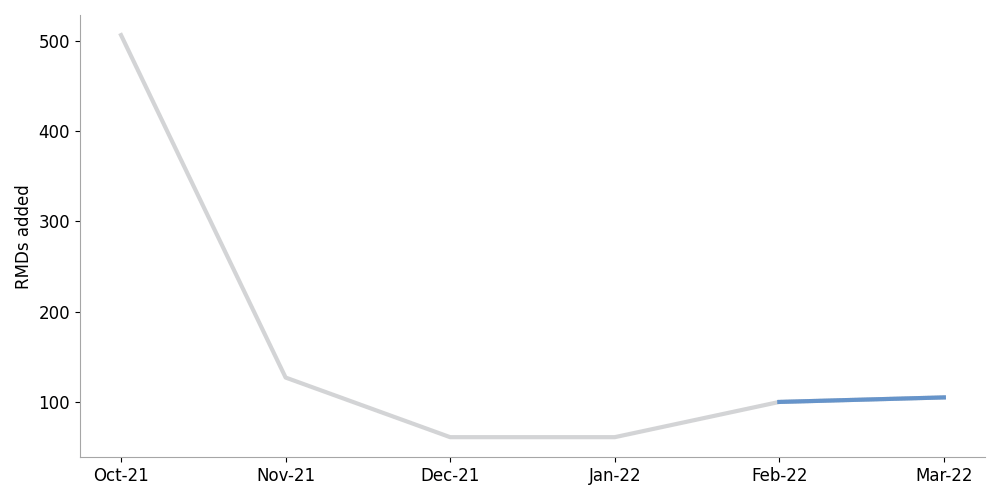 Figure 6 shows that Robocall Mitigation Database (RMD) filings were slow in December and January, with 61 filings each month. Filings increased to 100 in February and 105 in March. More providers doing SHAKEN? Not exactly.
In March 2022, 71% of the new RMD filings were for No SHAKEN. Many of these were in response to emails from the FCC questioning the complete SHAKEN claims of providers who aren't STI Policy Administrator's authorized SHAKEN provider list. How could they be doing SHAKEN if they aren't SHAKEN-authorized?
The big picture
Let's take a step back and look at the big picture:
Robocall numbers are not good. Many robocalls are signed B and C, the trend is increasing, and the overall percentage of robocalls is hovering around 3.5% with a slight upward trend.
After a four-month decline, SHAKEN participation is improving. More providers are signing calls, and a higher percentage of calls are signed.
Despite slightly better participation, there was a surge in No SHAKEN RMD filings in March. Many of these had claimed complete SHAKEN in previous filings and changed their filing to no SHAKEN in response to emails from the FCC.
There's more to come. Non-facilities-based providers face an accelerated deadline to implement SHAKEN by June 30, 2022. This will include many of the providers who just changed their RMD filing from complete SHAKEN to no SHAKEN.
The FCC has been sending cease and desist letters to providers with lots of robocalls in their network. The letters require these providers to mitigate the identified traffic within 48 hours and deploy robocall mitigation within 14 days to prevent future robocalls. In addition, state attorneys general are taking voice service providers to court for facilitating illegal robocalls. The walls are closing in on service providers for robocalls.
Collectively, these events will lead to more STIR/SHAKEN and robocall mitigation. Used together. Not one or the other.
It will be interesting to watch the SHAKEN and robocall statistics as these events unfold.
TransNexus solutions
TransNexus is a leader in developing innovative software to manage and protect telecommunications networks. The company has over 20 years' experience in providing telecom software solutions including toll fraud prevention, robocall mitigation and prevention, TDoS prevention, analytics, routing, billing support, STIR/SHAKEN and SHAKEN certificate services.
Contact us today to learn more.
This information will only be used to respond to your inquiry. TransNexus will not share your data with any third parties. We will retain your information for as long as needed to retain a record of your inquiry. For more information about how we use personal data, please see our privacy statement.