No SHAKEN claims surge in March
The proportion of voice service providers certifying that they have not implemented STIR/SHAKEN surged dramatically in March 2022. This article explains what's happening and what's next.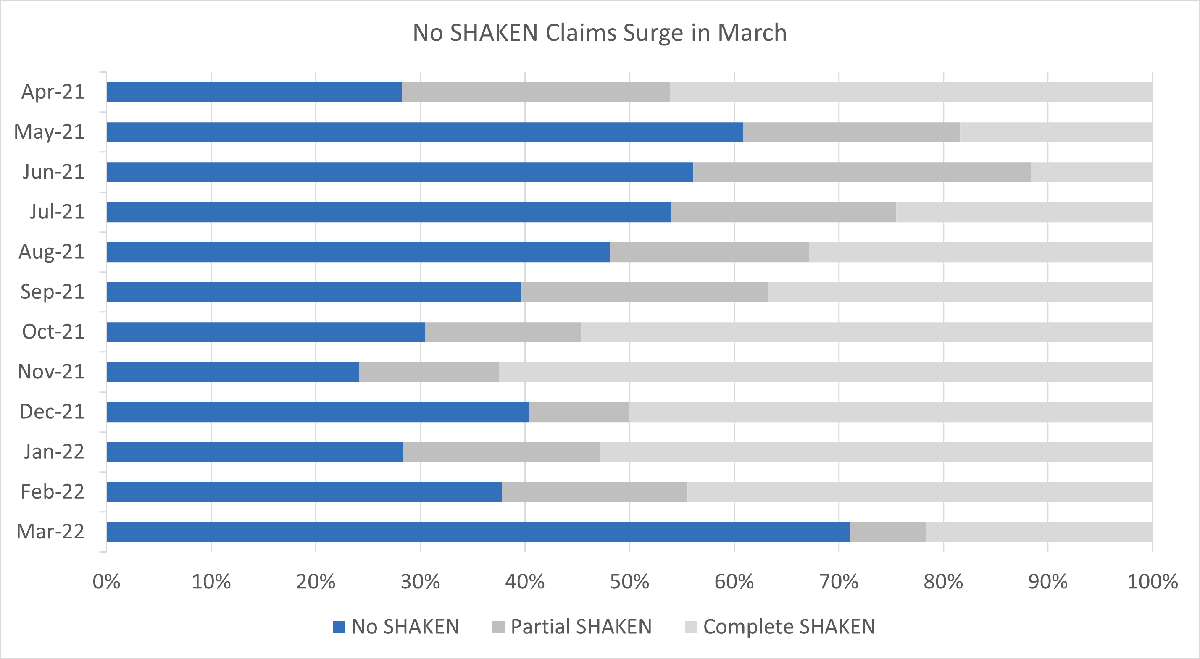 These percentages are for Robocall Mitigation Database (RMD) filings by service providers in the U.S. only and do not include intermediate registrations.
Compare the blue bar for Mar-22, No SHAKEN filings as a percentage of all filings, with the same segment in previous months. There has never been such a high percentage of No SHAKEN certification filings in any previous month.
| Month | Complete SHAKEN | Partial SHAKEN | No SHAKEN |
| --- | --- | --- | --- |
| Apr-21 | 46% | 26% | 28% |
| May-21 | 18% | 20% | 62% |
| Jun-21 | 12% | 32% | 56% |
| Jul-21 | 27% | 20% | 53% |
| Aug-21 | 42% | 18% | 40% |
| Sep-21 | 38% | 23% | 39% |
| Oct-21 | 55% | 15% | 30% |
| Nov-21 | 65% | 12% | 23% |
| Dec-21 | 50% | 10% | 40% |
| Jan-22 | 52% | 19% | 29% |
| Feb-22 | 44% | 18% | 38% |
| Mar-22 | 22% | 7% | 71% |
| Previous Averages | 40% | 20% | 41% |
Looking at the table of percentages for all filing months, 71% no SHAKEN filings in March is the highest proportion of any filing type in any month. The previous record holder was Complete SHAKEN filings, with 65% in November 2021. Complete SHAKEN in March is almost half its previous average (22% vs. 40%), while No SHAKEN in the same month is almost twice its previous average (71% vs. 41%).
What caused this surge?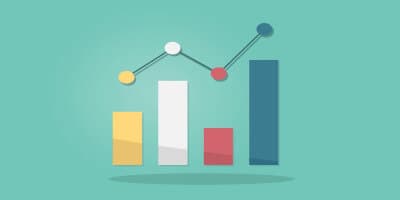 FCC emails
We have been contacted by several voice service providers that received an email from attorneys at the FCC. Here's an example, with contact-specific details redacted:
Dear Robocall Mitigation Database Filer:
Upon review of your filing, we have determined that the filing in the Federal Communications Commission's (FCC) Robocall Mitigation Database for which you are listed as the point of contact requires further explanation. The filing certifies to complete implementation of the STIR/SHAKEN caller ID authentication framework pursuant to 47 CFR § 64.6301(a). However, the provider for which you are listed as a contact is not an authorized service provider registered with the Secure Telephone Identity Policy Administrator (Policy Administrator) to participate in STIR/SHAKEN.
By [date provided], you must revise the filing; explain why the provider certified to complete STIR/SHAKEN implementation without registering with the Policy Administrator; or provide proof that the provider has registered with the Policy Administrator.
Failure to comply could result in referral to the FCC Enforcement Bureau and removal of this entry from the Robocall Mitigation Database, which would require all intermediate providers and terminating voice service providers to cease accepting traffic originated by the provider for which you are listed as a contact. See 47 CFR § 64.6305(c). This notice serves as a warning letter and constitutes the first step in the enforcement process for removal.
Why is the FCC looking for registrations with the STI Policy Administrator?
The TRACED Act requires the Commission to issue orders that require STIR/SHAKEN.
In their first SHAKEN order, the Commission defined STIR/SHAKEN as ATIS-1000074, ATIS-1000080, and ATIS-1000084.
ATIS-1000080 requires a Policy Administrator to issue tokens to SHAKEN-authorized service providers and service providers to use these tokens to obtain SHAKEN certificates with which they sign their calls.
If a service provider is not registered with the Policy Administrator, then how can they claim to be doing SHAKEN?
Service providers that claimed Complete SHAKEN are listed in the Robocall Mitigation database.
SHAKEN-authorized service providers are listed on the Policy Administrator website.
The surge in No SHAKEN RMD filings appears to include providers who received these emails. They're in the RMD with a Complete SHAKEN claim, but they aren't on the SHAKEN-authorized provider page.
TransNexus solutions
TransNexus is a leader in developing innovative software to manage and protect telecommunications networks. The company has over 20 years' experience in providing telecom software solutions including toll fraud prevention, robocall mitigation and prevention, TDoS prevention, analytics, routing, billing support, STIR/SHAKEN and SHAKEN certificate services.
Contact us today to learn more.
This information will only be used to respond to your inquiry. TransNexus will not share your data with any third parties. We will retain your information for as long as needed to retain a record of your inquiry. For more information about how we use personal data, please see our privacy statement.