Robocalls down in July
Robocalls in the U.S. were down in July. This article shows the trends and possible reasons for the drop.
Robocalls Down in July 2022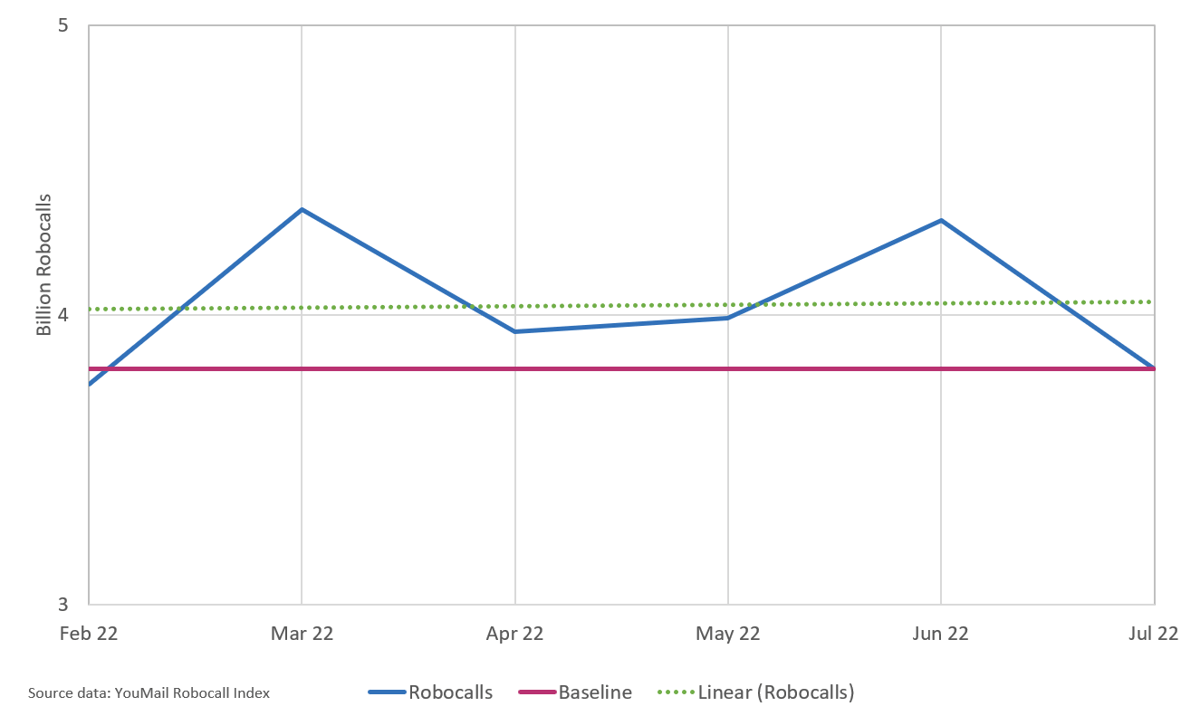 In Figure 1, the blue line shows monthly robocalls in the U.S. from February through July 2022. Robocalls in July were down 11.9% from the previous month. This is the largest monthly decrease in robocalls since December 2021, which saw a 13.4% decline.
The red line shows the July number as a baseline for comparison with previous months. Only February had fewer robocalls during the past six months.
The green dotted line shows the linear trend, which is almost level, with just a slight upward tilt.
What happened
Here are some likely contributing factors to the drop in robocalls in July:
Traceback activity. The Industry Traceback Group (ITG) has been busy chasing robocalls, as we see in the next two items.
Legal action. On July 7, the Ohio Attorney General filed a lawsuit in federal court accusing the Cox/Jones/Sumco Panama Operation of sending billions of auto warranty calls. Their letters noted that the Traceback Group had reported such calls up through mid-June.
Enforcement, part 1. On July 7, the FCC sent cease-and-desist letters to eight voice service providers that carried robocalls identified by the Traceback Group and the Ohio AG.
Enforcement, part 2. On July 21, the FCC issued an order directing all U.S.-based providers to either investigate/mitigate/report on traffic from the Cox/Jones/Sumco Panama Operation and the eight providers involved or alternatively, just block all calls from the Operation and these eight providers.
Would these contributing factors account for the 513 million fewer robocalls in July? Maybe some of it, but it's also possible that these actions had a chilling effect on other providers.
Will robocalls continue to drop? We hope so. Over the past 12 months, robocalls fluctuated an average of 7.4% per month. The biggest changes were +16.1%, -13.4%, and -11.9%. So, the July drop could be a trend, but it's also within the range of typical volatility. We'll see how this goes.