Robocalls down in August—trend, or blip?
Robocalls in the U.S. were down about 8% in August, according to the YouMail Robocall Index. Is this a trend, or a blip? Let's have a look.
Show me the numbers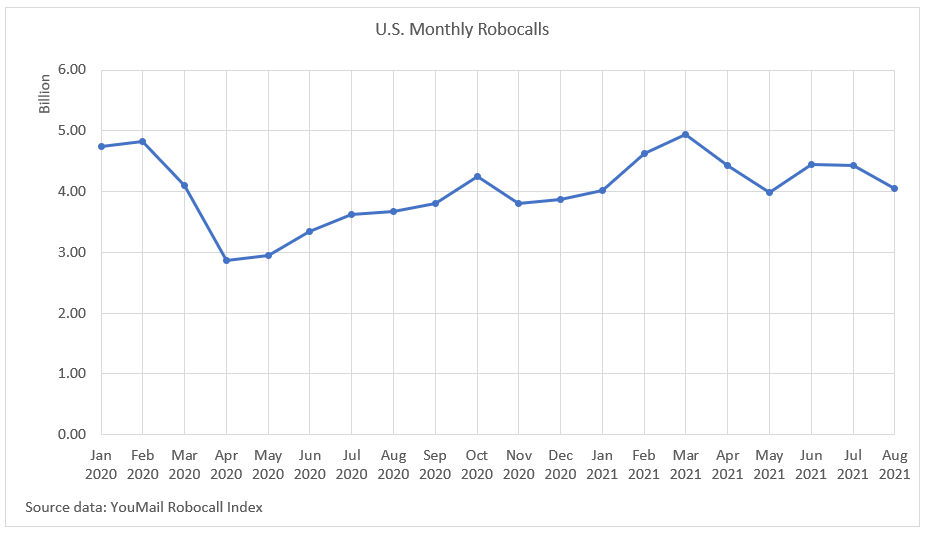 Here are the monthly robocall numbers for 2021.
| Month | Robocalls | Change |
| --- | --- | --- |
| Jan 2021 | 4,016,613,000 | 3.8% |
| Feb 2021 | 4,623,874,200 | 15.1% |
| Mar 2021 | 4,939,870,400 | 6.8% |
| Apr 2021 | 4,427,314,500 | -10.4% |
| May 2021 | 3,991,129,400 | -9.9% |
| Jun 2021 | 4,441,444,300 | 11.3% |
| Jul 2021 | 4,426,771,600 | -0.3% |
| Aug 2021 | 4,059,014,700 | -8.3% |
Is this because of SHAKEN, or something else?
We've been keeping track of SHAKEN statistics since April 2021. The percentage of calls received that were signed with SHAKEN has been steadily growing. It's up again in August.
| Month | Calls received that were signed |
| --- | --- |
| Apr 2021 | 2.3% |
| May 2021 | 6.2% |
| Jun 2021 | 8.9% |
| Jul 2021 | 15.6% |
| Aug 2021 | 23.0% |
Good news: SHAKEN participation is growing. Bad news: it's still a small proportion of calls.
However, SHAKEN doesn't prevent robocalls by itself. It helps combat caller ID spoofing, a tactic used with unlawful robocalls.
We take an optimistic view of this data. SHAKEN helps call analytics be used more effectively. SHAKEN usage is up. It's reasonable to attribute some portion of the drop in robocalls to better analytics.
Other contributing factors
Call analytics can be used to prevent robocalls. These methods become much more effective when combined with SHAKEN call authentication. The increased use of SHAKEN might be making call analytics, sometimes referred to as Call Validation Treatment, more effective.
Other factors might also account for robocall prevention:
Increased traceback activity by the Traceback Group
Enforcement action by the FCC
There's more to do
Robocall prevention will get a boost in effectiveness as other SHAKEN capabilities are deployed in widespread use. For example:
Shaken for TDM, using new non-IP SHAKEN methods will enable more calls to be authenticated. This will really take a dent out of robocalls.
Emerging SHAKEN technologies, like Rich Call Data and Delegate Certificates, will increase market demand for SHAKEN, especially among enterprise callers, which will encourage participation among service providers taking an extension.
TransNexus solutions
We offer STIR/SHAKEN and robocall mitigation solutions in our ClearIP and NexOSS software platforms. We can make your STIR/SHAKEN deployment a smooth process.
In addition, we help service providers with all aspects of STIR/SHAKEN deployment, including registering with the Policy Administrator and filing their certification with the FCC.
Contact us today to learn more.
This information will only be used to respond to your inquiry. TransNexus will not share your data with any third parties. We will retain your information for as long as needed to retain a record of your inquiry. For more information about how we use personal data, please see our privacy statement.