Will FCC order block ALL international providers calls?
The i3 Forum published a whitepaper on how FCC robocall mitigation orders will impact international voice traffic to the U.S. This paper includes some astonishing statements on the potential impacts. Let's have a look.
The i3 Forum whitepaper
The i3 Forum whitepaper, FCC Robocalls Order: Impacts on International Voice Traffic to USA, begins by summarizing requirements in the FCC Second Report and Order for U.S. voice service providers that receive calls from foreign voice service providers.
Of course, foreign service providers are not regulated by the FCC, but they will be impacted by these requirements indirectly because their downstream interconnection providers in the U.S. are covered by these requirements:
From September 28, 2021, U.S. service providers cannot accept voice traffic with U.S. NANP calling numbers directly from any service provider that does not appear in the Robocall Mitigation Database (RMD). This includes foreign service providers.
When filing a registration in the RMD, any service provider must certify that they have either implemented SHAKEN or satisfy the robocall mitigation program requirements in the Second Report and Order.

Since foreign service providers cannot be approved to sign calls in the U.S. by the Policy Administrator, it seems they will do robocall mitigation.
After reviewing these basics, the i3 whitepaper drops a bombshell.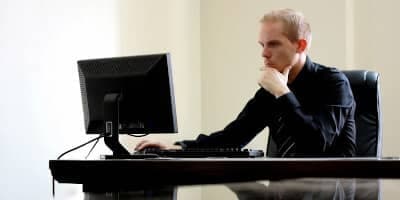 Whitepaper surprises
The FCC Second Order requires U.S. providers to refuse calls with U.S. calling numbers directly from unregistered providers, including foreign intermediate wholesale providers. But U.S. providers will still accept calls with non-U.S. calling numbers from unregistered providers, yes?
The i3 Forum whitepaper says they might not:
Terminating operators in USA may require their interconnected partners to register into the Robocall Mitigation Database (RMD) in order to continue delivering any international voice traffic to U.S. fixed and mobile subscribers. (emphasis added)

According to the feedback received by two major terminating U.S. operators, the reason behind this is that operators might not be able to discriminate… voice traffic based on the calling identity when traffic subject to FCC regulation (e.g., calls generated by U.S. outbound roamers) is mixed up with other international traffic.
This is an astonishing statement. Two major U.S. providers have said they will refuse all calls from unregistered foreign international wholesale providers!
Why? Because they cannot identify which calls have U.S. NANP calling numbers. So, they won't accept any calls from unregistered international wholesale providers.
For this reason, the i3 Forum whitepaper recommends that international wholesale providers register in the RMD as intermediate foreign providers. The whitepaper notes that this will oblige the provider to accept the terms and conditions set by the FCC.
Identifying U.S. NANP calling numbers used in calls from foreign countries
Although we were initially surprised that U.S. providers might refuse all foreign originated traffic from unregistered wholesale providers, it makes sense. We know that it's a struggle with some telephone network equipment and software to identify calls by country of the calling number.
This is easy to configure in our software. Here's an example: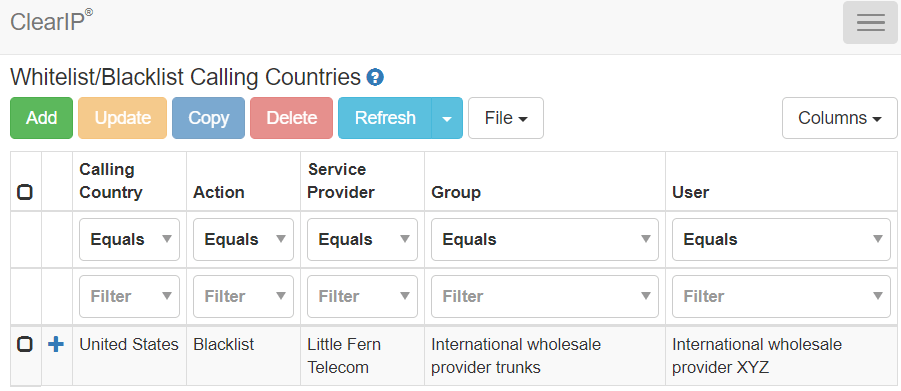 In this example, User International wholesale provider XYZ has been set up for Little Fern Telecom. Calls from this provider are identified by a particular value in either the x-otg header or the otg parameter in the SIP FROM header. (This is just one configuration example; the system provides different ways to do this.)
This screenshot shows a simple blacklist configured for calls with this originating trunk group and calling country United States. Such calls will be blocked. Calls from this trunk group with calling numbers from other countries will be accepted.
If this international wholesale provider registers a certification in the RMD, then this blacklist can quickly be deleted, and their calls with U.S. calling numbers will immediately be accepted.
Can foreign service providers get their calls signed with full attestation?
The second surprise in this whitepaper is a discussion of methods that foreign service providers can use so their calls to the U.S. will have full attestation at termination.
How is this possible? Foreign service providers cannot become SHAKEN approved by the U.S. Policy Administrator.
To overcome this limitation, the whitepaper describes three methods by which foreign service providers could achieve full attestation:
International voice traffic could arrange with gateway providers to segment calls into separate streams via a multi-trunk approach that correlates to the three attestation levels of SHAKEN.
Foreign originating service providers could arrange with U.S. telephone number providers to get delegate certificates. The originating provider would use a delegate certificate to sign a base or

RCD

PASSporT

. A downstream SHAKEN-authorized provider could then use the PASSporT to create a SHAKEN PASSporT with full attestation. We described delegate certificates in this whitepaper.
The Global System for Mobile Communications Association (GSMA) has recently established the Validating INtegrity of End-to-End Signaling (VINES) Working Group. One of its objectives is to propose a mechanism to interwork with STIR/SHAKEN.
Would these things work?
There's nothing in these proposals that's at odds with the SHAKEN standards or FCC regulations. The proposals are surprising, however, because they bring emerging SHAKEN methods into a new context.
However, there are a few practical realities that should be mentioned:
A downstream U.S. provider would likely insist on substantial information collection and vetting procedures before they would trust a full attestation implied by the multi-trunk method.
Multi-trunk attestation arrangements are agreed separately by each pair of providers at the ends of each trunk. Making these arrangements could be a very complex undertaking.
A U.S. telephone number provider would likely insist on rigorous know-your-customer vetting procedures before they would be willing to issue a delegate certificate to a foreign service provider.
A foreign originating service provider would have to get a delegate certificate from each telephone number provider in advance. This might work for a call center scenario, but it would not work for U.S. wireless customers using their mobile phones in foreign countries and roaming with foreign wireless service providers originating their calls. Mobile roaming would still be a problem.
The GSMA VINES program is in its infancy. There is no trust ecosystem to interact with SHAKEN yet.
So, these methods might work, but there are practical realities to contend with. Mobile roaming remains a thorny issue.
TransNexus solutions
We offer STIR/SHAKEN and robocall mitigation solutions in our ClearIP and NexOSS software platforms. We can make your STIR/SHAKEN deployment a smooth process.
In addition, we help service providers with all aspects of STIR/SHAKEN deployment, including filing their certification with the FCC.
Our software provides flexible, powerful blacklisting capabilities that make compliance with the FCC call blocking requirement easy.
Contact us today to learn more.
This information will only be used to respond to your inquiry. TransNexus will not share your data with any third parties. We will retain your information for as long as needed to retain a record of your inquiry. For more information about how we use personal data, please see our privacy statement.