Telecom fraud losses increasing, according to CFCA report
The Communications Fraud Control Association (CFCA) has released its 2021 Fraud Loss Survey Report. This biennial report describes the latest trends in telecommunications fraud as reported by fraud prevention professionals. Here are a few highlights.
The CFCA Fraud Loss Survey is conducted every two years. The report compares results from 2021 with findings from the 2019 report.
Telecom fraud is increasing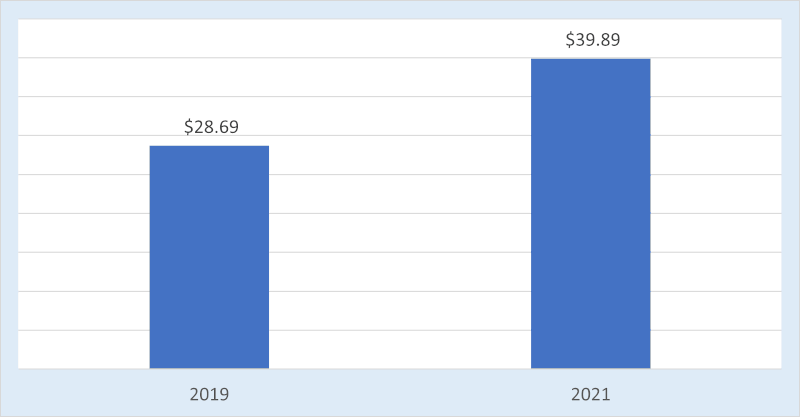 This top line statistic is disturbing to telecom fraud prevention professionals. Despite their efforts and the availability of advanced methods to prevent fraud, the fraudsters are winning. Fraud losses were up 28% since 2019.
Fraud types are evolving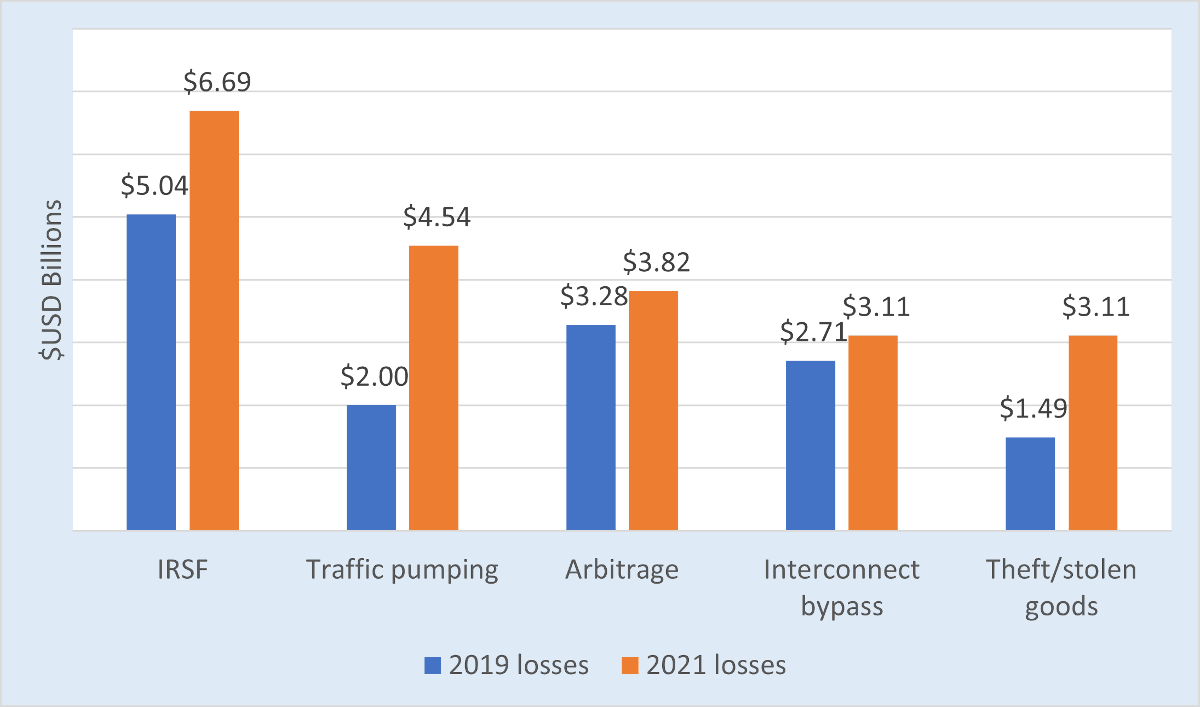 Digging deeper into the numbers, the report provides data on the top five fraud loss types.
The top two types, IRSF (International Revenue Share Fraud) and traffic pumping, are similar in that both involve traffic stimulation. The traffic pumping definition is broader: it includes switch access stimulation, 8YY dip pumping, and domestic traffic pumping.
Why are fraud losses up? Why are IRSF and broader traffic pumping attacks the primary loss generators?
The answers can be found in the next section of the report.
Fraud detection methods used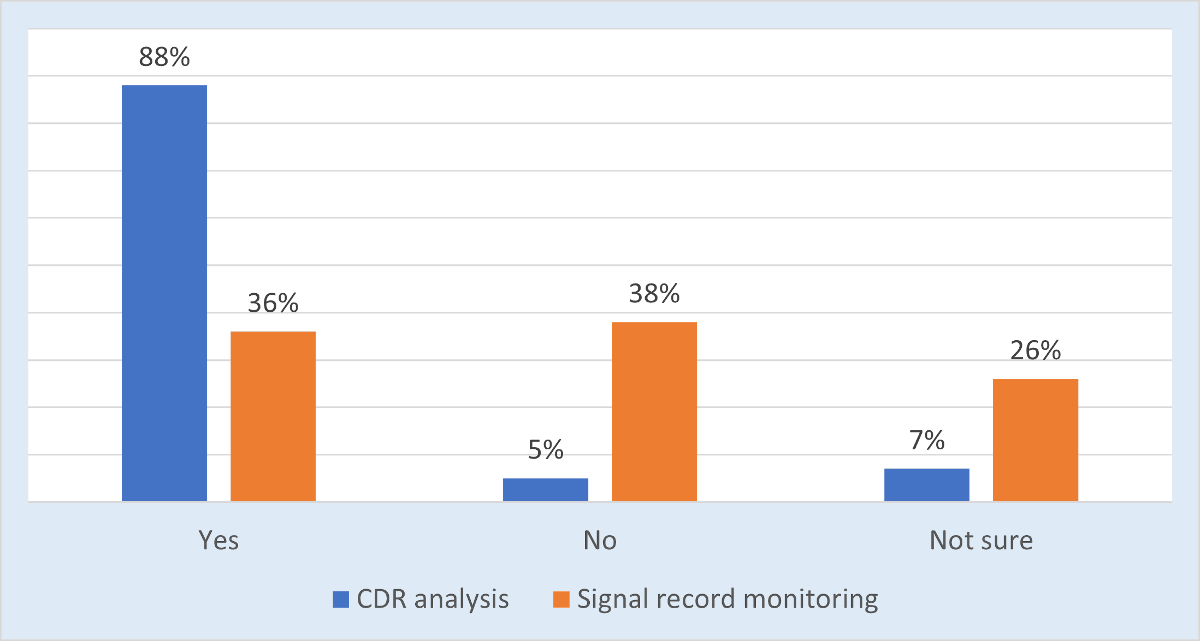 Most survey respondents, 88%, indicate that their company is using CDR-based fraud detection. Fewer respondents, 36%, are using signal record monitoring.
Here's what the report said about that:
Communication service providers can increase their fraud coverage and reduce their time to detection by monitoring their signaling records. Monitoring CDRs alone is not enough.
The problem with CDR-based fraud detection is that call detail records are typically created after call completion. Fraudsters try to keep their calls open long enough to run up significant charges.
Signal record monitoring, on the other hand, examines calls from the beginning, as they are being set up. Therefore, these methods don't have to wait for call completion—they can detect fraud attacks much faster.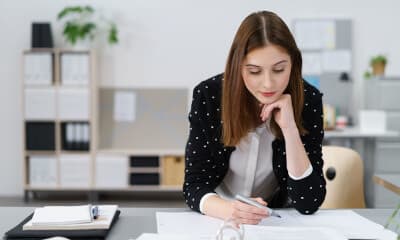 We reported an interesting case of a new customer who was setting up SIP Analytics, the TransNexus signal monitoring fraud detection solution, on their network. The system was in report only mode for final review before enabling automatic blocking.
Then they were hit by a high-velocity IRSF attack. Because SIP Analytics was still in report-only mode, their CDR-based system was their only line of defense.
The CDR-based fraud detection alerted the NOC staff 56 minutes after the attack began. Losses were $2,133.58.
SIP Analytics detected the attack after 1 minute, 15 seconds. Had blocking been enabled, losses would have been $2.03.
The new customer enabled SIP Analytics blocking that day. They've been a happy customer ever since.
Effective fraud prevention requires faster response to fraud attacks. Signal monitoring methods like SIP Analytics are faster and more effective.
About the Fraud Loss Survey
The CFCA conducts a Fraud Loss Survey every two years to gather information about trends in communications fraud and share it with communications fraud prevention professionals. Surveys were taken from fraud and security experts from around the world working within the industry who are directly involved in identifying and stopping communications fraud and work for a telecommunications service provider.
These highlights above are just the tip of the iceberg—much more information is available in the full 66-page report, which is available to members of the CFCA. To learn more, contact the CFCA at fraud@cfca.org.
About CFCA
CFCA is a not-for-profit global educational association that is working to combat communications fraud. The mission of the CFCA is to be the premier international association for revenue assurance, loss prevention and fraud control through education and information. By promoting a close association among telecommunications fraud security personnel, CFCA serves as a forum and clearinghouse of information pertaining to the fraudulent use of communications services. For more information, visit CFCA at www.CFCA.org.
TransNexus solutions
We offer SIP Analytics on our ClearIP and NexOSS software platforms. SIP Analytics monitors SIP messages during call setup to detect toll fraud, robocalls, and TDoS (Telephony Denial of Service) attacks. It only takes milliseconds to identify and respond to attacks.
Contact us today to learn how quick and easy it can be to get started with SIP Analytics.
This information will only be used to respond to your inquiry. TransNexus will not share your data with any third parties. We will retain your information for as long as needed to retain a record of your inquiry. For more information about how we use personal data, please see our privacy statement.