Standards-based STIR/SHAKEN
What is a standards-compliant STIR/SHAKEN system, and why does it matter? Here's a quick overview.
Legislation and regulations
The TRACED Act directs the FCC to issue rules for the deployment of STIR/SHAKEN by voice service providers in the U.S.
The FCC issued the following reports and orders: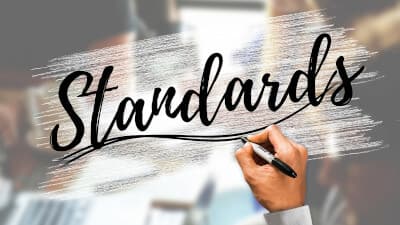 Industry standards cited in FCC orders
The FCC reports and orders cite industry standards documents to specify what the STIR/SHAKEN framework is:
ATIS-1000074. ATIS Standard of Signature-based Handling of Asserted Information using toKENS (SHAKEN)
ATIS-1000080. ATIS Standard on Signature-based Handling of Asserted information using toKENs (SHAKEN): Governance Model and Certificate Management
So that's it? These two documents cover the standards?
Not exactly.
Industry standards refer to and build upon previous standards. Within each of the documents listed above, there are lists of normative references to other standards documents. The latest version of ATIS-1000074 lists eleven standards documents as normative references, and the latest version of ATIS-1000080 lists twenty-one normative references. (Many references appear in both.) The two standards documents listed by the FCC inherit many other standards.
The importance of standards
So, why does it matter? Because by following standards, different STIR/SHAKEN systems can interoperate with each other.
Other standards documents
From two documents we've uncovered many other standards that they build upon. But there are other STIR/SHAKEN standards that we haven't mentioned yet. For example, ATIS-1000085 describes support for a "div" PASSporT used for diversion.
There are also standards documents in development. These documents describe exciting new capabilities for STIR/SHAKEN, including:
Delegate certificates to support customer-of-customer attestation scenarios
Rich Call Data to support additional caller information
Out-of-Band SHAKEN to support another way to transmit PASSporTs
Toll-Free Calls in the SHAKEN framework to support that
Each of these standards document includes normative references that the document inherits. This enables each document to be much more concise and focus on what's new for that topic.
For further information, see our STIR/SHAKEN Information Hub for links to standards, regulations, whitepapers, blogs and videos.
TransNexus solutions
We offer STIR/SHAKEN solutions, fully standards-compliant, of course, in our ClearIP and NexOSS software platforms. We completed the ATIS Robocalling Testbed in November 2017 to demonstrate interoperability of our software with the STIR/SHAKEN standards.
Contact us today to learn more about these solutions.
This information will only be used to respond to your inquiry. TransNexus will not share your data with any third parties. We will retain your information for as long as needed to retain a record of your inquiry. For more information about how we use personal data, please see our privacy statement.