FCC Chairman Pai statement on STIR/SHAKEN progress
FCC Chairman Ajit Pai issued a statement on August 14 about progress by major phone companies in implementing caller ID authentication. His statement was a reaction to news that AT&T and T-Mobile are beginning to roll out SHAKEN/STIR.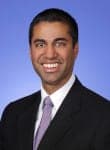 "I'm pleased with the progress being made to implement SHAKEN/STIR… I've made clear that, by the end of this year, the FCC expects major voice service providers to meet our goal of 'signing' calls between carriers. Implementation of SHAKEN/STIR is a crucial step in improving the accuracy of the caller ID information that consumers receive. Recent announcements indicate that all of the largest voice service providers can meet our deadline—and we will be monitoring them closely to ensure that they do so."

— FCC Chairman Ajit Pai
TransNexus SHAKEN/STIR solutions
Caller ID authentication isn't just for the largest carriers. We've been helping voice service providers of all sizes implement SHAKEN/STIR in our ClearIP and NexOSS software products for several months now. Their customers are beginning to see calls verified, and they're excited about that.
Contact us today to learn how we can help you deliver the benefits of SHAKEN/STIR to your customers!
This information will only be used to respond to your inquiry. TransNexus will not share your data with any third parties. We will retain your information for as long as needed to retain a record of your inquiry. For more information about how we use personal data, please see our privacy statement.