Hiya 2019 Half-year Robocall Report
Hiya, a maker of robocall prevention software for mobile phones, released their State of the Call robocall report for the half-year 2019. There are some interesting findings in this report.
Hiya estimates that robocalls in the first half of 2019 were up 128% from the first half of 2018. They estimate that mobile phone users receive 16 spam calls per month on average.
Hiya extrapolated these estimates are based upon the number of unwanted robocalls reported among their user base extrapolated for the total number of mobile phones in the U.S.
Robocall impact on telephone use
The report shows the impact of unwanted robocalls on telephone usage. It's a tragedy-of-the-commons situation in which robocallers chasing their own self interest are spoiling the telephone network.
First, here's a look at overall telephone usage by call direction and type: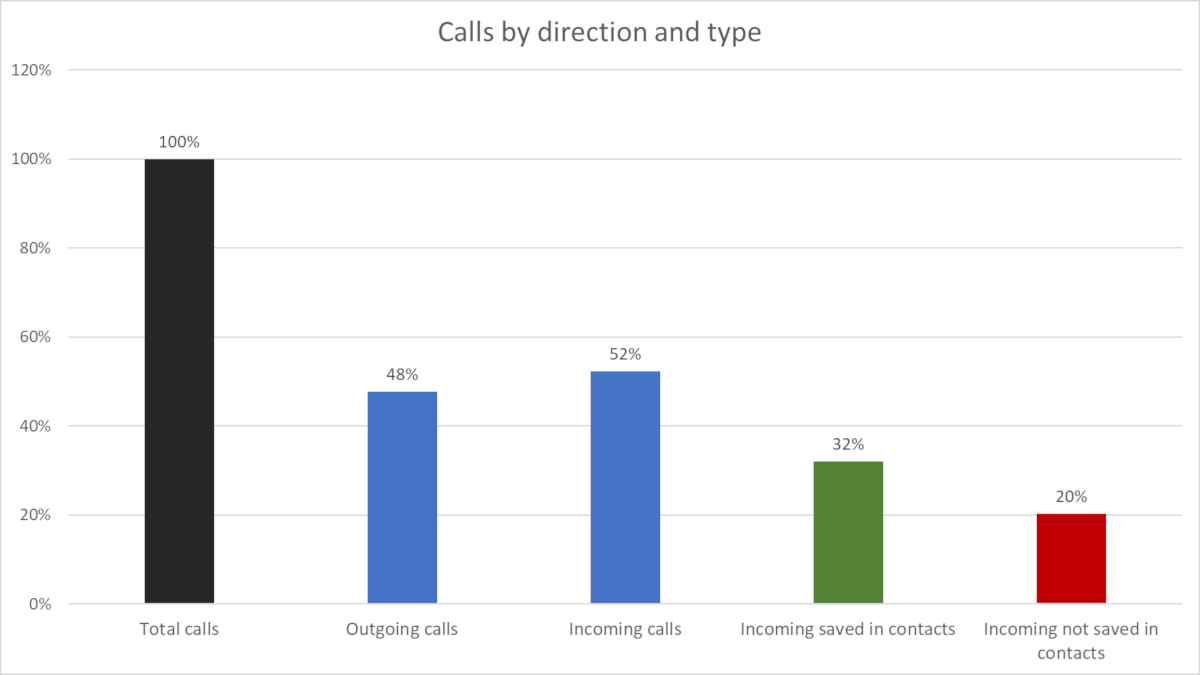 Callers receive more calls than they make, 52% to 48%. Twenty percent of all calls are incoming calls from numbers not saved in their contacts.
Looking at just incoming calls, 39% are from numbers not saved in contacts. Seventeen percent are spam.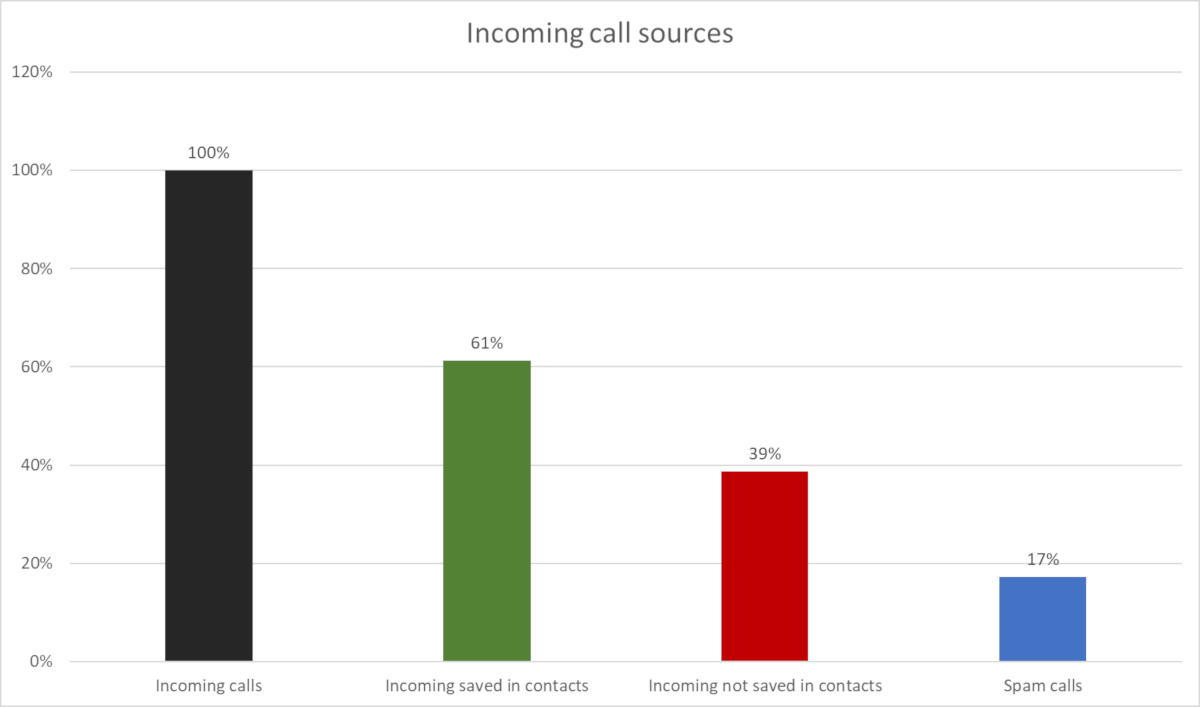 What impact does these spam calls have on answer rates?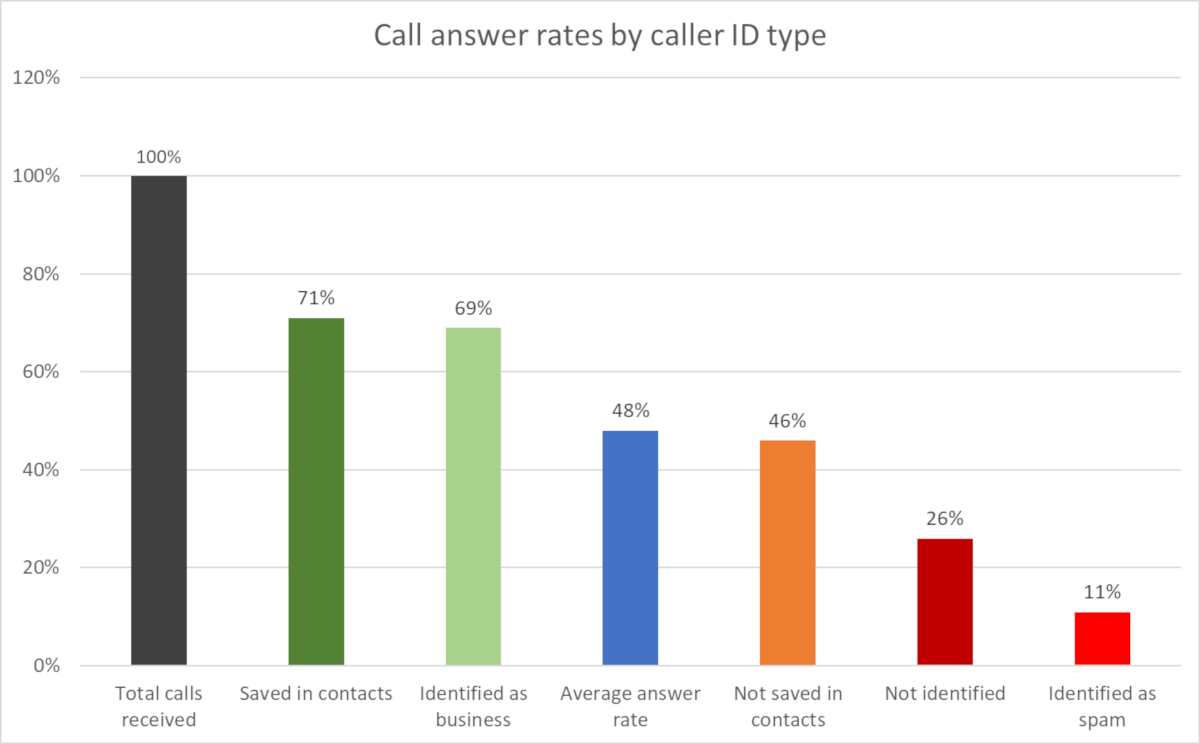 Most readers probably have a general sense that unwanted robocalls suppress answer rates for incoming telephone calls. Here are the numbers:
Incoming calls with the caller identified, either saved in contacts or identified as a business, have answer rates around 70%.
The average answer rate for inbound calls is only 48%.

That's close to the 46% answer rate for calls from numbers not saved in contacts.

Just a 26% answer rate for calls that are not identified.
When incoming calls are identified as spam, only 11% are answered.
There's a 25% drop from calls with numbers saved in contacts to those that are not saved in contacts.
There's a 43% drop from calls identified as a business to calls that are not identified.
The Hiya report includes other interesting information about recent robocall activity.
Implications
What does this information tell us? Here are the conclusions that we draw from these numbers:
Subscribers have adapted to robocalls by simply not answering unidentified or unknown calls.
The good news: answer rates for identified calls were just as good as calls from numbers saved in contacts!
These findings seem to support the case for better caller identification. Businesses and organizations should make STIR/SHAKEN with rich call data a top priority.
TransNexus solutions
We have STIR/SHAKEN and rich call data solutions in our ClearIP and NexOSS software products.
Contact us today to learn how you can use these capabilities to improve your call answer rates.
This information will only be used to respond to your inquiry. TransNexus will not share your data with any third parties. We will retain your information for as long as needed to retain a record of your inquiry. For more information about how we use personal data, please see our privacy statement.