The rise of SIP trunking
SIP trunking provides measurable benefits to enterprises by simplifying network elements, enabling new services, and reducing expenses. This paper explains how it works and the benefits it provides.
What Is SIP trunking?
A Session Initiation Protocol (SIP) trunk is a virtual connection between an Internet Protocol Private Branch Exchange (IP-PBX) and a telephone service provider providing SIP-based voice and Unified Communication (UC) services, connected over an enterprise's data network connections. The key components of SIP trunking are an IP-PBX, Session Border Controller (SBC), and a SIP service provider.
The IP-PBX is the most commonly used and cost-effective mechanism that can convert voice calls to VoIP calls for transmission across the SIP trunk. The SBC sits on the border between an enterprise's private network and the public network offered by the data and telephony service providers. A SIP service provider offers transport and termination of SIP calls that aren't managed within the internal enterprise network. An optional component of SIP trunking is a session management system. This system consolidates several elements into one single system's control and provides intermediation and federation between different platforms, networks, and geographies.
Benefits of SIP trunking
SIP trunking provides measurable benefits to enterprises by simplifying network elements, enabling new services, and reducing expenses. A brief list of these benefits is described below:
SIP trunking adoption is on the rise
A recent report published by Software Advice, a telecom technology reviews site, shows that SIP trunking adoption is on the rise and will continue to rise in the future because of a substantial return on investment that companies are receiving.5 In addition, reports estimate that savings of up to 50% can be accrued by transitioning from the traditional voice services to SIP trunking if deployed correctly.
One way that SIP trunking can cut costs for a business is through the combination of voice and data services. This saves organizations money as they don't have to pay for both Internet and phone services. Two important requirements businesses consider when choosing a SIP provider are the SIP provider's security capabilities and the quality of their customer support. Approximately 25% of businesses state that security capabilities were a leading factor in choosing their provider. Further, effective support ranked high in importance for businesses as it assists them in regaining momentum following service outages and scales phone systems with ease.
Daniel Harris, a Market Research Associate for Software Advice, highlighted key findings in analyzing the impact that SIP trunking has made in the industry. Prominent findings include the following:
Three primary concerns that impact SIP provider selection are security, quality of support, and the pricing model
Nearly 70% of IT decision-makers have endorsed and utilized SIP trunking within their organization
Approximately 73% of businesses claimed to be very satisfied or extremely satisfied with the audio quality of calls connected by SIP providers
Roughly 53% of respondents have concentrated their phone systems, broadband Internet connections, and SIP trunks into a sole provider
About 80% of surveyors claim that voice traffic is frequently prioritized in an effective manner on their business's network
SIP trunking mediums
A business implements either a hosted, cloud-based system or an on-premise system. A cloudbased system is located with a provider and is accessed through an Internet connection. The provider manages the equipment that is needed to provide the Unified Communications services. In contrast, an on-premise system is located within an on-site server and is not handled by a third-party provider.
On-premises systems vs. cloud-based systems
The on-premises system and cloud-based systems can be differentiated on a variety of criterion. Kara Deyermenjian, from TechTarget, developed a comparison chart to highlight contrasting points in regards to capital expenditure, installation expenses, migration strategy, type of infrastructure, provisioning requirements, maintenance upkeep, and disaster recovery.4
Capital Expenditure: Phones are the only hardware costs for cloud-based systems, resulting in low capital expenditure. For on-premises systems, the cost increases for larger businesses. Phone hardware, rack space, power, and cooling are just a few of the expenses to account for.
Installation Costs: Since little hardware is required for cloud-based systems, installation costs are minimal or non-existent. On-premises systems have a high installation expense that correlates to the number of devices being implemented. Staff and contractor labor must also be accounted and paid for.
Migration Strategy: New Unified Communications features may be added to a company's current system to assess implementation. The functionality of these new features can be deployed freely by the company at time of their choosing. On-premises systems would require replacement of the existing infrastructure that would cause communication down-time and troubleshooting on the back-end. The deployment is not immediate and could take weeks, months, or years for it to span company-wide.
Necessary Infrastructure: The framework needed for cloud-based systems to offer Unified Communications operations is located in the data center of the service provider. The IP connection to the cloud itself permits users to access these functions. The framework needed for on-premises systems commonly incorporates managerial and administrative operations, Unified Communications functionality, servers for hosting voicemail, and proprietary control units to host analog telephony boards.
Provisioning Requirements: Cloud-based systems offer landline connectivity, which is an expense that is grouped into the per-user fee. On-premises systems necessitate a telephone company contract to supply and provision analog landlines for inbound and outbound calling.
Maintenance and Updates: For cloud-based systems, the cloud provider manages software updates to always keep subscribers up-to-date. For on-premises systems, updates and feature enhancements may need to be repeated multiple times and can take anywhere between days to years to implement.
Disaster Recovery: Cloud-based systems rely on the Internet link and hosting service, but the majority of providers can offer reliable redundancy. However, one drawback is that equipment is not immediately accessible. Unlike cloud-based systems, on-premises systems have instantaneous accessibility to their equipment. However, on-premise systems also have high expenses to include redundancy, and thus, large enterprises are commonly the only types of businesses that can afford disaster recovery.
Key findings between on-premises systems and cloud-based systems
A supplemental report released by Software Advice illustrates several key findings between the relationship of SIP trunking in cloud-based and on-premises PBX systems.6
On-premises PBXs are more dependable than cloud-based PBXs for SIP trunking. Respondents with cloud-based PBX systems have reported more SIP provider outages than organizations with on-premises PBX systems. Thirty-two percent of respondents with on-premise systems claimed to rarely be subjected to outages in comparison to only 18% of those with cloud-based systems. The chart below illustrates the outage frequency by type of PBX system. A combined 21% of cloudbased PBX systems "rarely" or "never" experience outages in comparison to only 35% of on-premises systems.
The variations in outage frequency can be attributed to different reasons. The performance of cloud-based PBX systems can be impacted by issues over the public and private networks employees use in order to access them. On the contrary, on-premises systems have a higher number of direct connections to the PBX. In addition, many IP PBX systems have the capability of backup connection options that lets businesses route calls over traditional networks when internet connections fail.
The study shows that 36% of cloud-based systems have a larger range of PBX features supported by SIP trunking in comparison to only 28% of on-premises systems. The variation between these two percentages can be attributed to the majority of respondents having consolidated their cloud PBX provider with their SIP trunking provider. This consolidation gives an innate interoperability between the PBX and the SIP trunk since the same provider is responsible and manages both services.
A large majority of surveyors expressed satisfaction with their service level agreements (SLAs). SIP providers that present SLA compatibility to a company's business model minimize configuration and maintenance issues. The most significant variations of SIP trunking SLAs pertain to installation, mean time to recovery (MTTR), mean opinion score (MOS), and R-factor score. An impressive 89% of respondents stated that providers delivered on SLAs linked to service recovery following outages. Further, 88% also claimed providers delivered on SLAs linked to call quality.
Transport Layer Security (TLS) is the leading solution for securing SIP Trunks and is used to prevent denial-of-service (DOS) attacks. Of the 208 IT decision-makers surveyed, 58% use TLS. It is important to note that provider offerings surrounding VoIP security is still not a standard practice. A smart place to start is guaranteeing that your provider provides and supports SIP signal over TLS.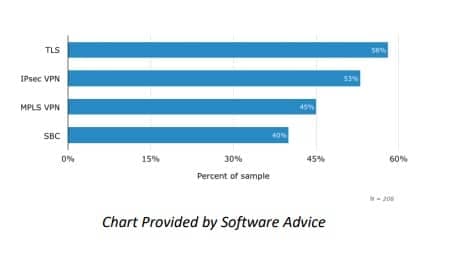 ---
Footnotes
An Introduction to SIP Trunking (Business 2 Community)
Benefits of SIP Trunking (TransNexus)
Five Business Benefits of SIP Trunking (PC World) Hosted PBX
On-Premises vs. Hosted Cloud UC: Comparison Chart (TechTarget)
Top Considerations for Selecting and Implementing a SIP Provider (Software Advice)
Top Considerations for Selecting and Implementing a SIP Provider (Part Two) (Software Advice)