TransNexus at ITEXPO 2021
Helping Voice Service Providers Get Ready for SHAKEN and Robocall Mitigation
ATLANTA, Georgia, June 16, 2021 — TransNexus today announced that Jim Dalton, CEO of TransNexus, will participate in a session, STIR/SHAKEN: The Deadline is Here, Are You Ready? at ITEXPO at 11:00 a.m. on Wednesday, June 23, 2021 in Room 216 of the Miami Beach Convention Center.
The deadline for STIR/SHAKEN implementation is just days away. Still, there are many questions about what it means for voice service providers.
This session will discuss the following:
The TRACED Act and subsequent FCC orders
How and when service providers are impacted
What service providers need to do to become compliant
Options for implementing STIR/SHAKEN.
Even if you have implemented STIR/SHAKEN, this is a must-attend session to ensure you are ready.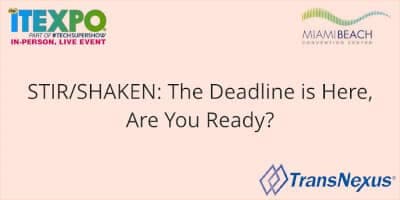 Panelists
Jim Dalton, CEO, TransNexus
Gerry Christensen, VP of Business Development and Strategic Partnerships, YouMail
Shane Unfred, EVP Business Development and Product Management, TSG Global
AkShay Sharma (Moderator), Principal Analyst, next Curve
About TransNexus
TransNexus is a leader in developing innovative software to manage and protect telecommunications networks. The company has over 20 years' experience in providing telecom software solutions including toll fraud prevention, robocall mitigation and prevention, TDoS prevention, analytics, routing, billing support, STIR/SHAKEN and SHAKEN certificates. For more information, contact us today.
This information will only be used to respond to your inquiry. TransNexus will not share your data with any third parties. We will retain your information for as long as needed to retain a record of your inquiry. For more information about how we use personal data, please see our privacy statement.