Service providers prepare for imminent SHAKEN deadline
Non-facilities-based small voice service providers in the U.S. must implement SHAKEN by June 30, 2022. This article shows how these providers are preparing for this deadline.
Reminder: This deadline was set by the FCC Fourth Report and Order in December 2021. It defines non-facilities-based providers as entities that offer "voice service to end-users solely using connections that are not sold by the provider or its affiliates."
In this article, we review new and updated Robocall Mitigation Database (RMD) filings. We compare them with changes in the STI Policy Administrator's (STI-PA's) list of voice service providers authorized SHAKEN provider list to see how many providers are entering the SHAKEN ecosystem.
Here's a snapshot of June filings in the Robocall Mitigation Database (RMD) through June 29, 2022.
U.S. RMDs created or updated in June 2022
| Implementation | New RMDs | Updated RMDs | Total RMDs | PA Auth | % Auth |
| --- | --- | --- | --- | --- | --- |
| Complete SHAKEN | 52 | 72 | 124 | 48 | 39% |
| Partial SHAKEN | 9 | 33 | 42 | 14 | 33% |
| No SHAKEN | 26 | 22 | 48 | | |
| Intermediate | 5 | 3 | 8 | | |
| Totals | 92 | 130 | 222 | 62 | 37% |
The RMD database allows one to update a previous filing. 130 filers updated a filing from a previous month, while 92 filed a new certification.
Most RMD filings were for Complete SHAKEN: 57% of new RMD filings and 56% of all new and updated filings.
Figure 1, below, shows implementation data visually.
Most June RMD Filings Were Complete SHAKEN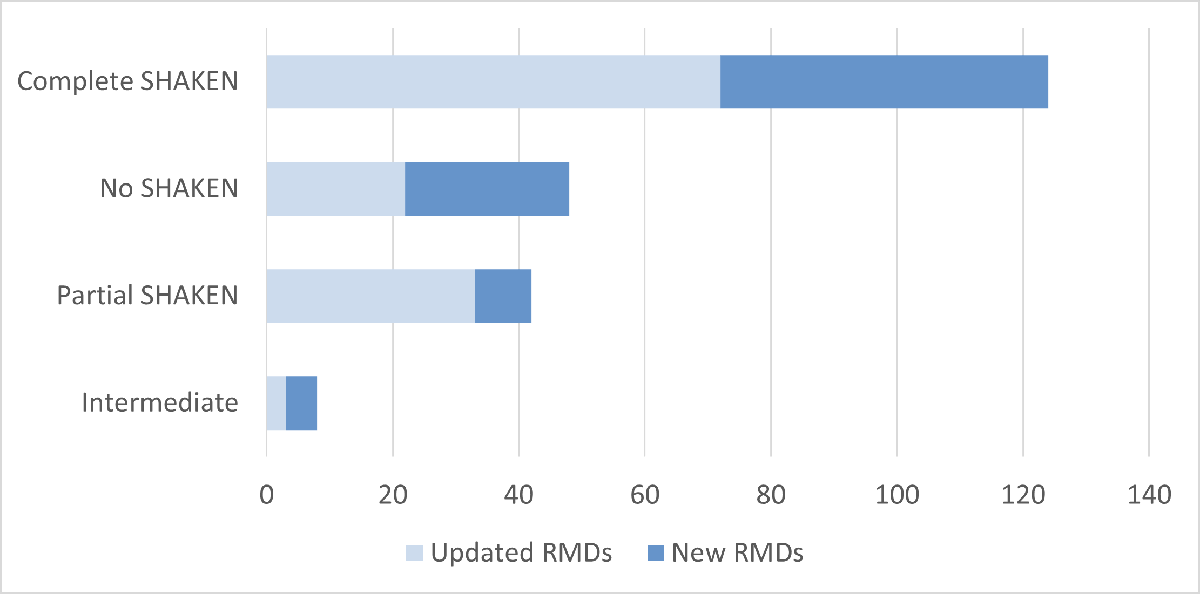 STIR/SHAKEN authorized providers
We compared the filers that claimed either complete or partial SHAKEN implementation with the list of authorized providers on the STI Policy Administrator (STI-PA) website. The results are in the PA Auth and % Auth columns in Table 1.
We could match only 39% of the complete SHAKEN claims and 33% of the partial SHAKEN claims with the STI-PA. Of the 168 complete and partial SHAKEN claims in June, we found only 62 (37%) on the STI-PA's list.
What's going on?
First, a few disclaimers. Authorized providers are listed by name only. Often this is the name of a parent company. RMD filings are often at the subsidiary level. Some RMD filings do not provide a parent company in the doing-business-as fields. So, it's possible we missed a few matches.
Even with these disclaimers, clearly there were many more voice service providers claiming a SHAKEN implementation in the RMD that are not approved by the STI-PA. This is a problem, for several reasons:
The STIR/SHAKEN framework specifies a governance framework, which includes service provider authorization by the STI-PA. It's an essential part of the ecosystem.
The TRACED Act and ensuing FCC orders require STIR/SHAKEN participation. A voice service provider is not participating if they are not authorized by the STI-PA to do SHAKEN.
Is this everyone?
There's one other strange thing about the RMD filings data: There are only 92 new RMDs so far in June, with just one day to go.
June RMD Filings Were Up Slightly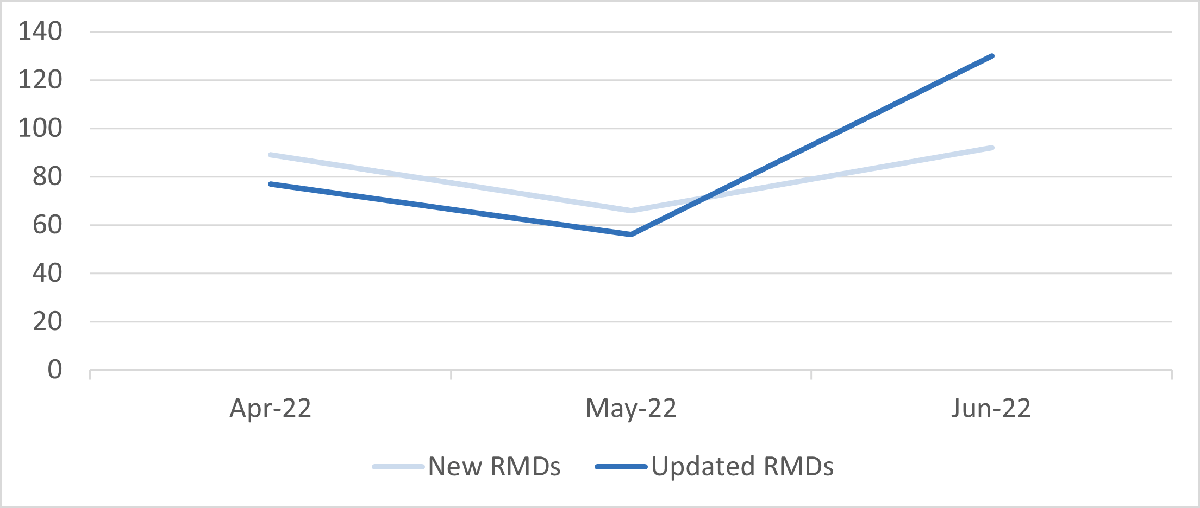 Figure 2 shows that RMD filings were up slightly in June, but not by much. Either there aren't many small non-facilities-based providers or there soon will be a surge of RMD filings and freshly-authorized SHAKEN providers.
It will be interesting to watch where these numbers settle after the deadline has passed.