Is call labeling becoming a protection racket?
Call labeling has been promoted as a valuable service to protect people from unwanted and illegal robocalls. Is this service becoming a protection racket? Let's have a look.
Background
The FCC promotes call blocking and labeling services to consumers who want to avoid unwanted calls:
Many phone companies are taking advantage of FCC rules that allow consumers to be enrolled automatically in call blocking services, but you can opt-out if you are concerned about missing wanted calls. A number of companies also offer call labeling to help consumers determine which calls they want to answer. Labeling services display categories for potentially unwanted or illegal calls such as "spam" or "scam likely" on the caller ID display.

Contact your phone company to learn more about the blocking and labeling solutions that may be available to protect you from unwanted and illegal calls. There may also be apps you can download for your mobile device—at little or no cost—to block or label potential spam calls. In addition to call-blocking and labeling services, you should also check with your wireless device manufacturer about built-in features you can use to block unwanted calls from specific numbers using your cell phone's settings.

FCC: Stop Unwanted Robocalls and Texts
Here's a typical example of a spam call display: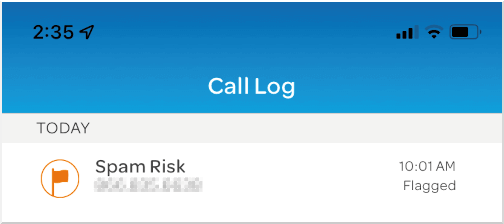 Recent happenings
We noticed a recent conversation on a voice service provider discussion list about numbers they obtain from DID providers that were listed as spam numbers by call blocking and labeling services. These were new numbers just obtained from DID providers. The customers that received these numbers were small, low call volume businesses. Yet, their outbound calls were marked as spam.
An engineer with a voice service provider asked their DID provider about this. He was told that a call blocking and labeling service recently began setting all numbers to initially be labeled as spam by default.
Obviously, this is a serious problem for voice service customers. Some of these customers are small businesses that use these numbers to call their customers. Call completion has dropped because their calls are labeled spam.
Conflicts of interest
Some of these call blocking and labeling service companies also sell branded calling services. This service displays the caller's name and brand to the called person. The intention is to improve call completion and to avoid calls being marked as spam.
Is something nefarious happening here? Are call labeling services marking numbers as spam to push businesses to sign up for branded calling services? Is this a protection racket?
Are all DID providers treated equally, or are numbers from some providers labeled spam while others are not? Is the playing field level, or is preemptive spam labeling becoming a competitive tactic?
There isn't enough clear evidence to make these charges stick. However, the optics are not good. Even if the call labeling services have valid, prudent reasons for preemptive labeling of numbers as spam, an irate customer could understandably feel suspicious about this situation. Apparently, the grumbling has already started.
A gap in the regulations
We haven't found FCC regulations that directly address this situation. The FCC call blocking orders from 2017–2022 deal with call blocking, not labeling.
The call blocking orders require the following:
Blocking based upon reasonable analytics
Analytics must consider the SHAKEN verification status of calls that were signed
Calls blocked by using analytics (i.e., not invalid, unassigned, or DNO numbers) require immediate notification to enable redress by the caller.
None of those requirements apply to labeling.
The only legal and regulatory principles we find remotely related to call labeling is the recurring theme that regulations should be reasonable and competitively neutral. We believe that preemptive labeling of calling numbers as spam fails these principles.
It will be interesting to follow developments on this issue.