FCC issues further restrictions on robocalls
The FCC issued two orders on December 30, 2020, to further protect consumers from unwanted and illegal robocalls. The first order is directed at organizations that make non-commercial robocalls to residential phones, and the second order addresses voice service providers. Here's an overview.
First order — non-commercial calls to a residence
This rule:
Applies to any caller that is not calling for a commercial purpose
Applies to only to calls made to residential telephone lines
Allows three artificial or prerecorded calls within any consecutive 30-day period.
Callers can ask consumers for consent to make additional artificial or prerecorded calls. If they make this request with an artificial or prerecorded call, it counts against the three-call limitation; if they make the request with a live caller, it does not.
This order, CG Docket No. 02-278, implements section 8 of the TRACED Act.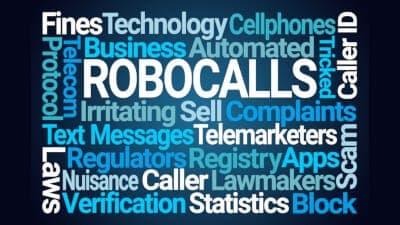 Second order — voice service providers
This order:
Requires all voice service providers to respond to traceback requests from the Commission, civil and criminal law enforcement, and the Traceback Consortium
Holds a notified voice service provider responsible liable for failure to effectively mitigate illegal robocall traffic after being notified of such traffic by the FCC

A notified voice service provider must promptly report to the Enforcement Bureau the results of its investigation and mitigation steps it has taken

Requires voice service providers to prevent new and renewing customers from using their network to originate illegal calls.
Expands safe harbor based upon reasonable analytics to cover network-based blocking if the network-based blocking incorporates caller ID authentication information

Must target only calls highly likely to be illegal, not simply unwanted
Must manage blocking with human oversight and network monitoring to ensure the blocking works as intended.
This order, the Fourth Report and Order for CG Docket No. 17-59, stems from legal authority given the FCC in the Communications Act of 1934 and the Truth in Caller ID Act.
TransNexus solutions
We offer STIR/SHAKEN and robocall prevention solutions in our ClearIP and NexOSS software platforms.
In addition, we help service providers with all aspects of STIR/SHAKEN deployment, including registering with the Policy Administrator and filing their certification with the FCC.
Contact us today to learn more.
This information will only be used to respond to your inquiry. TransNexus will not share your data with any third parties. We will retain your information for as long as needed to retain a record of your inquiry. For more information about how we use personal data, please see our privacy statement.