TCPA and robocall prevention before the US Supreme Court
Oral arguments were heard on December 8 in a case before the U.S. Supreme Court (SCOTUS) that could decide the fate of the Telephone Consumer Protection Act of 1991 (TCPA). The Court's ruling in this case, Facebook v Duguid, could have huge implications for laws and regulations against unwanted robocalls. Here's an overview.
What's an Automatic Telephone Dialing System?
The TCPA was enacted to restrict telemarketing calls made with an Automatic Telephone Dialing System (ATDS). To do this, the legislation had to define what an ATDS is. Here's the definition used in the law:
(1) The term 'automatic telephone dialing system' means equipment which has the capacity —

(A) to store or produce telephone numbers to be called, using a random or sequential number generator; and

(B) to dial such numbers.
Although this definition seems simple enough, it's been ground zero for landmark court cases that have revealed weaknesses and vagueness in the definition.
First, the phrase "store or produce telephone numbers to be called, using a random or sequential number generator" has given judges fits. Does the number generator provision apply to both verbs, "store" and "produce," or does it only apply to "produce"? What does it mean to store a telephone number using a number generator?
Narrow definition
A narrow interpretation has been found in some court cases, where both "store" and "produce" are linked with the number generator requirement. This narrow definition would make it easy for robocall perpetrators to escape the TCPA. They could simply claim that their dialing system doesn't do all those things.
Broad definition
A broad interpretation has been made in other court findings, where only the number generator provision only applies to "produce." This makes TCPA effective against more robocall perpetrators, but it also could ensnare callers in other scenarios.
One word can make a huge difference
The word "capacity" has proven difficult. It would include any device that's capable of doing something, regardless of whether it's actually used that way.
For example, today's smart phones are capable of being used as an ATDS, with the right software. Does that mean smartphone users are now subject to the TCPA? Can they be prosecuted and fined for making calls to people without express consent, even if they don't use their phone to blast out robocalls?
What's at stake
If the Court sides with the Plaintiff, Duguid, and his quest for a broad definition of ATDS, then the TCPA would remain effective against a wider class of robocall activity. However, it could potentially be used against callers using smart phones, which are capable of being used as an ATDS, even in situations where the caller was not using that capability.
Facebook seeks a narrow definition of ATDS. If the SCOTUS agrees, then the TCPA would be in jeopardy. High-volume callers could easily avoid the TCPA by using an ATDS that doesn't fit the narrow definition. This could unleash a tidal wave of robocalls.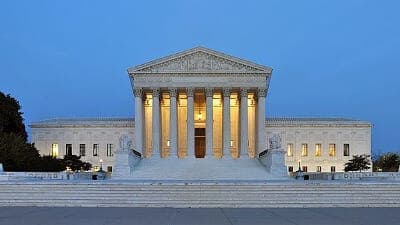 Predictions
Eric Troutman, an attorney who specializes in TCPA cases, has commented that, before oral arguments, he would have given Facebook an 85% chance of success in their quest for a narrow ruling on the ATDS definition. After hearing oral arguments, however, he thinks the odds are more like 60-40 in favor of Facebook.
Attorneys from K&L Gates wrote a review of the oral arguments. They believe that the conservative members of the Court (Thomas, Alito, Gorsuch, Kavanaugh, Barrett) seem to favor the narrow interpretation argued by Facebook. Justice Sotomayor seemed to favor the broad interpretation. It was unclear what position Roberts, Breyer, and Kagain seemed to prefer from their questions.
The SCOTUS is expected to issue its decision by mid-2021.
TransNexus solutions
We offer robocall mitigation solutions in our ClearIP and NexOSS software platforms. Contact us today to learn how you can prevent inbound robocalls from disrupting your subscribers and mitigate the origination of outbound robocalls to comply with the TRACED Act.
This information will only be used to respond to your inquiry. TransNexus will not share your data with any third parties. We will retain your information for as long as needed to retain a record of your inquiry. For more information about how we use personal data, please see our privacy statement.