FCC proposes rule to permit robocall blocking by default
FCC chairman Ajit Pai today proposed a new declaratory ruling that, if adopted, would permit telecom service providers to block robocalls by default. Such call blocking would be based upon call analytics or contact lists in customer phones.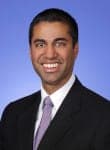 "Allowing call blocking by default could be a big benefit for consumers who are sick and tired of robocalls. By making it clear that such call blocking is allowed, the FCC will give voice service providers the legal certainty they need to block unwanted calls from the outset so that consumers never have to get them," said Chairman Pai. "And, if this decision is adopted, I strongly encourage carriers to begin providing these services by default—for free—to their current and future customers. I hope my colleagues will join me in supporting this latest attack on unwanted robocalls and spoofing."
In 2017, the FCC issued a ruling that allowed telecom service providers to block calls with invalid calling numbers or from numbers on the Do Not Originate list (i.e., numbers that are never used to make outbound calls).
The ruling proposed today would be the first time that the FCC would permit blocking calls using legitimate telephone numbers in caller ID.
Consumers would be able to opt out of call blocking upon request.
Similarity to pending legislation
The proposed ruling is similar to a provision in proposed legislation pending in the U.S. House of Representatives, the Stopping Bad Robocalls Act (H.R.946). This legislation would require telecom service providers to block calls that fail caller ID authentication (STIR/SHAKEN isn't mentioned by name, but it's understood to be the solution for this job). In the proposed legislation, customers also would be allowed to opt out of such call blocking.
The declaratory ruling proposed by Pai differs in that it would be based upon call analytics, such as reputation services, or customer contact lists. However, in today's announcement, Pai also proposed seeking public comment on how STIR/SHAKEN might inform call blocking.
TransNexus STIR/SHAKEN solutions
We offer reputation services (i.e., call analytics) and STIR/SHAKEN in our ClearIP and NexOSS software products. Both services enable call blocking or diversion, for example, if a calling number has a poor reputation or fails caller ID authentication and verification.
Contact us today to learn how our reputation and STIR/SHAKEN services can provide the call blocking services described in today's proposed ruling and pending legislation.
This information will only be used to respond to your inquiry. TransNexus will not share your data with any third parties. We will retain your information for as long as needed to retain a record of your inquiry. For more information about how we use personal data, please see our privacy statement.