New FCC proposed rules would ban Huawei and ZTE
FCC Chairman Ajit Pai announced proposed rules to protect communications networks from national security threats. The proposed rules aim to prevent eligible companies either from purchasing or continuing to use network equipment from Huawei or ZTE.
First, a Draft Report and Order would bar communications companies from using FCC Universal Services Fund money to purchase equipment from these suppliers.
Second, a Further Notice of Proposed Rulemaking would require eligible carriers to remove existing equipment and services from these suppliers from their networks. The proposed rulemaking would seek comment on how to provide financial assistance to help these carriers do that.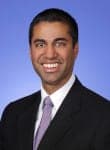 "Chinese law requires all companies subject to its jurisdiction to secretly comply with demands from Chinese intelligence services," said Ajit Pai. "As the United States upgrades its networks to the next generation of wireless technologies—5G—we cannot ignore the risk that that the Chinese government will seek to exploit network vulnerabilities in order to engage in espionage, insert malware and viruses, and otherwise compromise our critical communications networks."
Here's the FCC announcement of the proposed Draft Report and Order and Further Notice of Proposed Rulemaking.