How to prevent Telephony Denial of Service (TDoS) attacks
We've noticed an uptick in inquiries about solutions to prevent TDoS (Telephony Denial of Service) attacks. Such attacks are bad news: they can target and overwhelm critical telephone systems, such as emergency response numbers or call centers. The good news: effective solutions are available.
TDoS attack profiles
There are different versions of TDoS attacks. They share a common feature in generating many calls to a destination, which eventually overwhelms the PBx or trunk. They vary in how these calls are generated.

In a centralized TDoS attack, computer software is used to generate many calls from one source.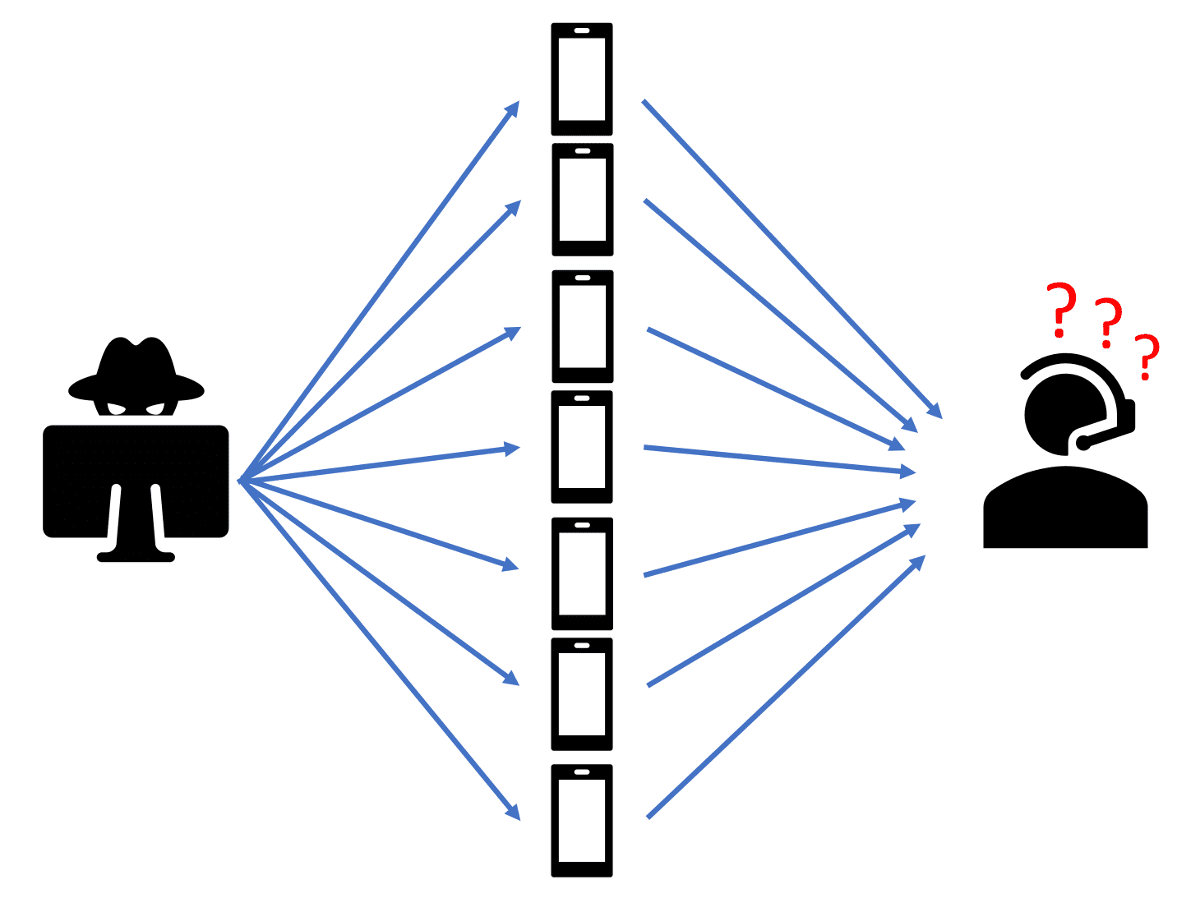 With a distributed TDoS attack, malware is distributed to many call sources to programmatically generate lots of calls at the same time.
TDoS prevention
With either profile, attacks can be prevented by analyzing call traffic. When the volume of traffic breaches a threshold, further calls are blocked or diverted, ending the attack.
In a centralized attack, the fraud prevention software scores telephone calls with common attributes, such as calling and called numbers, users and groups. When the cumulative score for a commmon grouping breaches a threshold, further calls are blocked or diverted to IVR for a period of time. The attack is ended.
With a distributed attack, fraud prevention software scores call traffic to a destination. When the cumulative score of calls to a given number crosses a threshold, further calls to that destination are diverted to an Interactive Voice Response (IVR) system for screening. The IVR prompts the caller for a response, which the distributed malware cannot provide. The attack is over.
TransNexus TDoS prevention solutions
We offer services with our NexOSS and ClearIP software products to prevent TDoS attacks:
SIP Analytics analyzes call traffic for detection of TDoS attacks, fraud attacks and unwanted robocalls. Once detected, calls can be blocked or diverted.
CAPTCHA gateway is an IVR system that accepts diverted calls and prompts for human interaction.
We offer these services on-premises or in the cloud, providing scalability to defeat any TDoS attack.
Contact us today for more information on TDoS prevention.
This information will only be used to respond to your inquiry. Transnexus will not share your data with any third parties. We will retain your information for as long as needed to retain a record of your inquiry. For more information about how we use personal data, please see our privacy statement.
More on TransNexus.com
July 10, 2019
July holiday week telecom fraud attack profiles
June 13, 2019
ClearIP enhancements for blacklisting of SPID and location
May 20, 2019
Anatomy of a telecom fraud attack
May 14, 2019
Study on rule changes to eliminate access arbitrage
May 8, 2019
FCC warns of Wangiri telecom fraud scams
March 14, 2019
How to prevent Telephony Denial of Service (TDoS) attacks
March 8, 2019
SIP Analytics vs. CDR-based fraud management – a case study
October 22, 2018
FCC proposal to curb domestic telecom fraud
September 27, 2018
Lessons learned from call forwarding attacks
September 10, 2018